"I Just Had to be an Expert in George"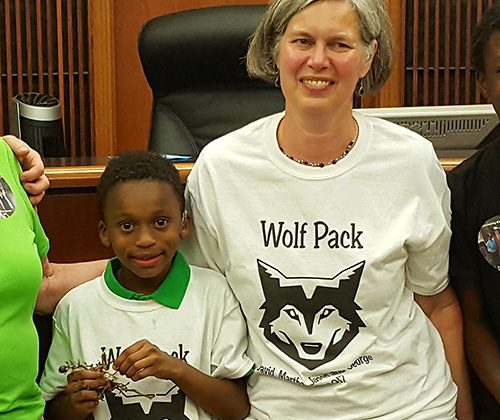 "George has always been an energetic, joyful child."
But when Children's Law Center attorney Megan Conway met now 8-year-old George four years ago, his joy was eclipsed by circumstances beyond his control. George had recently been removed from his home for neglect and placed into foster care. In addition to suffering trauma, George was hard of hearing and spoke a mix of English and Spanish. That combination made it difficult for George to communicate his needs – or understand the needs of others.
Assigned by DC Family Court to represent George's best interests, Megan immediately sprang into action, working to secure George the supports he needed while facilitating reunification with his biological mother.
But, after a year and a half, George's biological mother struggled to rebuild her own life. That's when George's attorney, Megan, advocated to change his goal to adoption.
DC's child welfare agency decided to look toward families interested in adopting an older child.
That's where the Wolfs, at the time a family of three, come in.
"They were awesome from the beginning. They came to the first interest meeting with a list of the top 10 reasons why they should be George's forever family," says Megan.
The top 10 list included everything from the Wolfs' prior experience with adoption, child therapy and IEPs to their desire to have George help them pick out their future pet dog.
It was a match.
George's foster family told him the Wolfs' wanted to adopt him and planned a lunch with the family.
"We didn't know how he was going to react," remembers Mrs. Wolf. "[But when they arrived] my husband opened the door and George bounded up the steps and said, 'Hi Dad! How are you doing?'…he embraced it pretty quickly."
Throughout the next few months, as Children's Law Center continued to represent George's best interests, George was gradually integrated into the Wolf family. First, there were occasional visits to Chuckie Cheese with the social worker, the Wolfs, George and his foster family. Next, they worked up to overnight visits, then two nights and three.
Finally, in March 2016, George moved into the Wolf home as their foster child, and they began the adoption process. The very next day George experienced his first plane ride as the family headed for a vacation in Colorado.
At the time, George attended school in DC, but the Wolf's live in Maryland. So, once the school year ended, it was time to transition him to a school closer to home. The team knew George – who uses a hearing aide, has ADHD and a trauma history – would need continued supports to ensure his success. That's when D.D. Davis, an education attorney at Children's Law Center, became part of George's team.
"For me it was really helpful because I could come into the meetings and know [Children's Law Center attorney D.D. Davis] was totally up to speed. If anything came up, she was going to tackle it. I didn't need to pour over the hundred pages of the IEP. She had my back and piped up. It was reassuring that she was keeping track of things and aware of the different options," says Mrs. Wolf. "I just had to be an expert in George."
Even with a few "growing pains," Mrs. Wolf says the school embraced George and was dedicated to his success.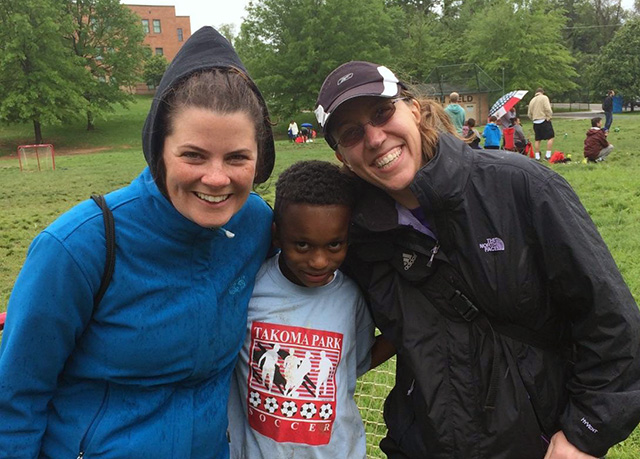 Since Megan represented George, the Wolf's needed their own lawyer. Children's Law Center secured pro bono counsel for the Wolfs from attorneys Rollie Goss, Dawn Williams and Jason Brost of Carlton Fields. George officially became a Wolf in June of 2017. The family celebrated in style: customized T-shirts emblazoned with "Wolf Pack."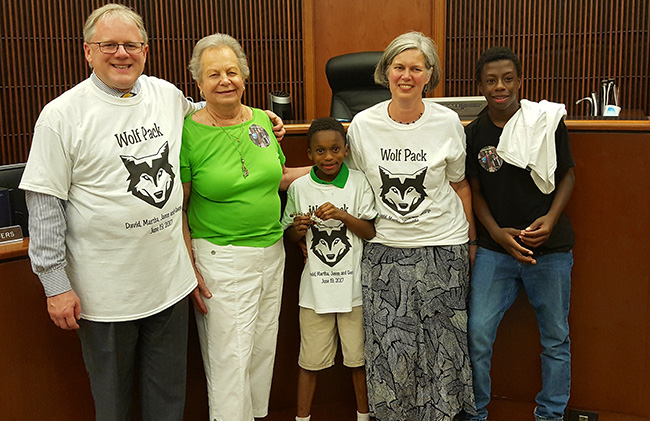 Through it all, Mrs. Wolf, says, the consistency of Children's Law Center's advocacy has been key.
"Megan's the only person who has been with him since he moved into foster care. She really understands his story from the beginning, knows his birth family and the supports he needs. She's fantastic at just making the case for him," says Mrs. Wolf.
"I can't imagine what George's life would have looked like without Megan."
George's progress has been remarkable. He's joyful, idolizes his brother and loves watching wrestling with his dad. And despite coming into care four years ago with underdeveloped language skills, he's transformed into a talkative, eloquent 8-year-old boy.
"His teacher this past year said that when he came to the front of the class, the kids were enraptured. He completely had their attention and could lead and teach in an amazing way. He really has a gift," says Mrs. Wolf.
"For his future I see him as a teacher or a coach. He's really good at telling everyone else what to do – In an encouraging way."
But, most importantly, Mrs. Wolf wants George to feel grounded in his past.
"I want him to know who he is and who is with him," says Mrs. Wolf, "which will be Megan. Forever."