Keisha's Journey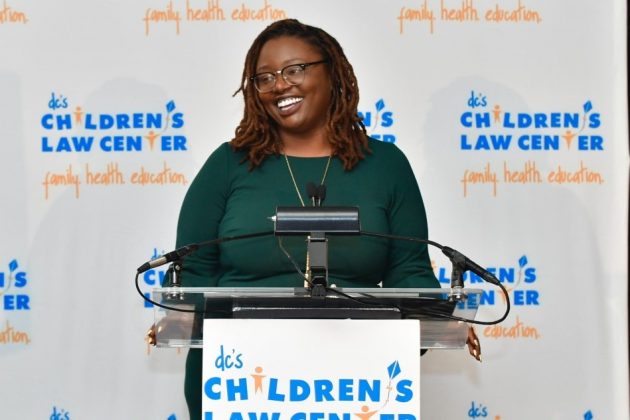 This year, at our Helping Children Soar Annual Benefit, guests met Keisha — a young woman who found herself in a new city following Hurricane Katrina.
Following an opening video, Keisha stepped onto the stage to share more in her own words.
Read Keisha's remarks here. Excerpt shared below:
"I never imagined I would be where I am today. My close friends – who are with me today – jokingly say Lady Luck must be on my side or must be my guardian angel.
"But I know it's not that simple. It was extremely hard work. But I was also fortunate to meet some phenomenal people along the way who supported me during my roughest moments. Two of those people were Sara and Emily – my lawyers from Children's Law Center.
"Sara's impact on my life…there are no words. I was struggling a lot. I had a lot of highs, but I also had a lot of lows. I was battling depression and even harming myself.
"I needed help, but Medicaid that most kids in foster care get left me with very few options. But fortunately, Sara connected me with a therapist she knew who didn't take my insurance but was still willing to take me on as a client because of her relationship with Sara and the standing connection she had with Children's Law Center.
"Emily came into my life a few years later as I was applying to college. She did everything to make sure I succeeded – from reviewing my essays, getting my application fees waived, and even helping move in and get my dorm room set up.
"My most important memories were not about Sara or Emily fighting for me in court. It was the personal connections I made with them, it was the words that they told me outside of court that made me feel that I was more than just a foster child.
"They always reminded me that I was more than my status, and that I could have whatever life that I wanted."
Keisha is just one of the more than 5,000 children and families we reach each year — more than 37,000 since our founding.