Michelle's Journey to Adulthood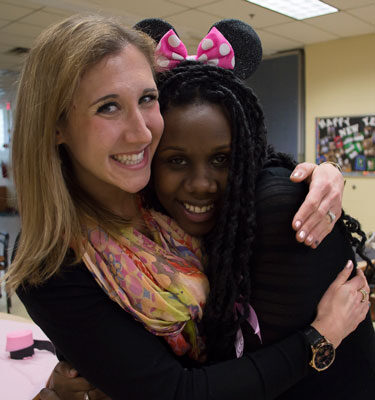 "No matter what you've been through, as long as you stay focused and you believe in yourself, you can overcome it." That's the advice that 20-year-old Michelle gives kids who are growing up in foster care today.
It's advice that she gives from the heart, based on her own experience.
Michelle spent almost half of her young life in foster care. When she was 12, her mother died of breast cancer. Because the illness had been kept a secret, Michelle was completely shocked when her mother died. The most important person in her life was suddenly gone.
Her father, who had a long history of substance abuse, couldn't care for her so she ended up living informally with an older sister. Understandably, Michelle was overwhelmed by grief and shock. Living with her sister didn't go well.
Michelle says she wasn't easy to live with at the time. "I would argue, say stuff like you're not my mom, I don't have to listen to you," she says. Looking back, she says what she really needed was guidance, love and some family consistency. But consistency would take many years to come. The increasing conflict with her older sister caused Michelle to end up in a foster home at the age of 13 – the first of many foster homes she lived in.
Michelle was scared of being taken in by strangers. "My idea of foster care was watching Annie growing up, and so that's what I thought it would be," she says. "I worried that I was going to get beaten up, that no one would be there for me." She ran away several times.
That's when Children's Law Center got involved.
Children's Law Center was appointed by a family court judge to be Michelle's Guardian ad litem, charged with looking out for her best interests. Michelle's attorney, Gabby Majewski, quickly became a tenacious advocate for her young client. She knew that Michelle needed more support to deal with the intense grief she had experienced.
"Michelle came into the child welfare system without help to deal with the loss of her mother and the rejection by her family and her first foster family," Gabby said. To help her overcome this trauma, Gabby advocated for intensive therapy for Michelle. She also pushed for a more stable home environment, arguing against stays in group homes where conflicts could arise with other teenagers.
Still, Michelle's teenage years were rocky. The trauma over losing her mother and her family, coupled with typical teenage rebellion made Michelle a bit of a fire keg. She would get into fights in foster homes and at school. She even ended up in juvenile detention several times.
"I used to get arrested a lot," Michelle says. When you meet her now, that is hard to believe.
Over time, with help from therapy, other intensive mental health services and more understanding foster placements, Michelle began to recover. Through this support and her own hard work, Michelle was able to better manage her emotions. She eventually settled in with a more supportive foster family.
"My foster mom now is absolutely wonderful," Michelle says.
Gabby and Children's Law Center were also with her every step of the way. When the child welfare agency wanted to stop Michelle's therapy multiple times, Gabby fought to keep her in therapy. And, whenever a conflict arose in one of the foster homes, Gabby pushed to make sure that Michelle could be in a new environment that was better prepared to help her recover from trauma.
Michelle raves about Gabby and how she has advocated and supported her.
"When I talk she always listens, when I need advice, she would always listen," Michelle says. "If I didn't have Gabby, I wouldn't be the person I was today. She always pushes me. When I say I can't do this, she says, yes you can!"
Today, with the support of her "absolutely wonderful" foster mom, Michelle says she is getting ready to be on her own. "My goal is independence," she says.
She's getting ready for living an independent life by graduating from high school, getting her driver's license and making plans for more education. She meets monthly with Gabby, her case worker and others to "talk about all the big and little steps it will take to get to independence," she says.
It's been a long journey into adulthood, but Michelle is confident she is on the right path. Why? Because when nobody else believed in her, she had a tenacious advocate in her lawyer Gabby. And now she believes in herself, too, and knows she can overcome anything.