Three Little Boys and Five Heartbeats = Adoption Day Arithmetic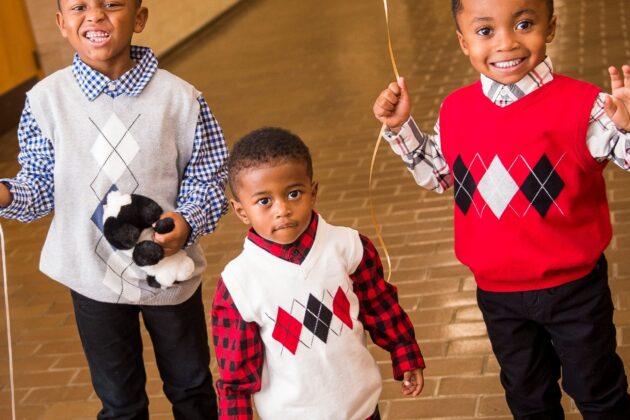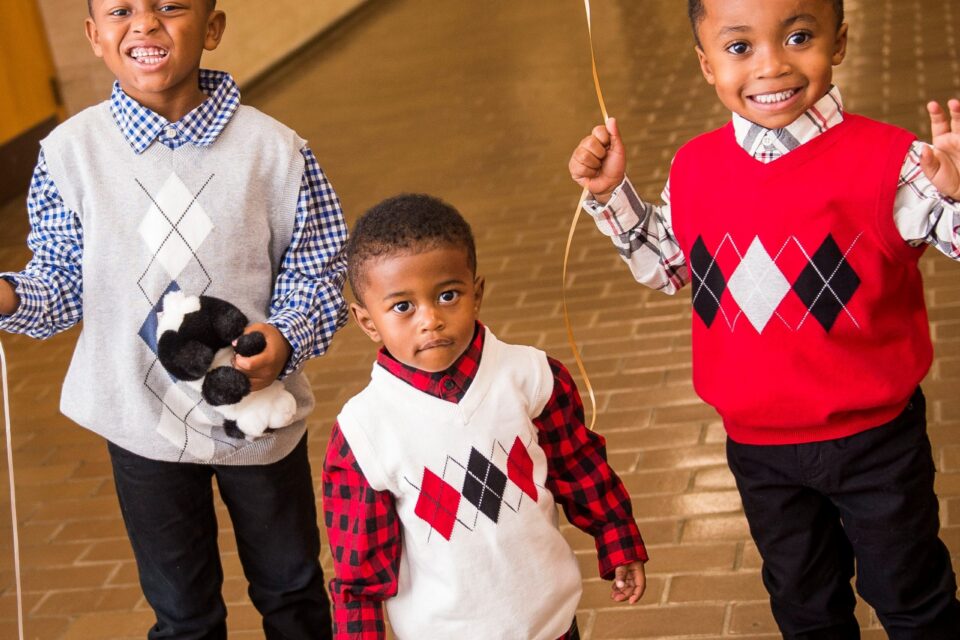 What happens when you take a name that starts with T, multiply by three, then add a Children's Law Center attorney? In this case, the three find their forever family.
This math equation is the story of three adorable, energetic little boys—6-year-old Tirone, 4-year-old Tirese and 2-year-old Tirell—and their journey to 2017 Adoption Day on November 18.
Today, Tirone, Tirese and Tirell love spending time with their new big brothers, celebrating Friday pizza nights and vacations with their family. But it wasn't always like that. When meeting these energetic boys, you would never know that their early years were extremely difficult.
No parental supervision, no food, concerning injuries and only a dirty mattress with no sheets. When Children's Law Center first met Tirone and Tirese, it was because they were put in foster care after a concerned neighbor called the police. While the two returned to their mom's care for a short period of time, they were eventually removed again, this time joined by their baby brother Tirell.
That's when the three T's met Mr. and Mrs. Nash and Children's Law Center attorney Dalton Collins. Dalton serves as all three boys' guardian ad litem attorney—his priority is making sure the boys are in the best family environment possible and that the family has the support system they need. Through his thorough investigation and getting to know the brothers, Dalton understood the boys' history, reality and needs. Using this information, he advocated tirelessly with the court to make sure they were in the best family arrangement for all three children.
Mrs. Nash is grateful for Dalton's work. It was love at first sight for her with these three boys.
"We don't do the title thing in our family," Mrs. Nash shares. "We don't say foster kids or foster mom. Once you come into our home, you're family, no matter how long you stay. It was like that from day one with my babies. I am their mom, they are my sons, and I am just ecstatic about that."
When the boys arrived, they were quiet and reserved—all except for Tirese, who has always been a chatterbox. Tirone was nonverbal and showing signs of developmental challenges. He was 4 years old and still wearing pullups. Mrs. Nash knew he needed love, attention and to be put first—and that's just what she and her husband did.
"My husband and I became a team. I was on feedings, he was on changings. We both work full-time, so you can imagine how hectic of a time it was—but I wouldn't change it for anything," recalls Mrs. Nash. With this additional attention, Tirone was quickly potty trained and starting to talk within just a few short months.
The boys bonded with the Nash's adult sons immediately. These days, Tirone plays flag football on the team his older brother coaches. Mrs. Nash talks about how much her older sons adore their little brothers. Though they are busy adults, both men make sure to spend time with the youngest members of the family every week.
As for Dalton, he was there with the boys every step of the way. He has spent the past year advocating for the boys' best interest, both in the courtroom and out of it.
"From day one it was like Tirone, Tirese and Tirell had always been a part of the Nash family," Dalton remembers. "I've loved watching them bond with their new brothers, succeeding more and more in school and becoming the happy little boys they are today."
When it became apparent to Dalton and the court that the boys' best interest was to live with the Nash family, he advocated to have their end goal change to adoption. With his help, this goal became a reality today. "Dalton was amazing. He's always very attentive to the children's needs, to get me answers when I need them and to take action when the boys needed it," Mrs. Nash shared. "He was the one to get me medical rights because the children needed care. I don't know what would have happened without him."
To Dalton, the most important part of this story is knowing the boys will be happy. "Seeing Tirone, Tirese and Tirell interact with the entire Nash family makes it clear that these boys have a bright future in their forever home. It makes my job worth it," he shares.
During the process, both Dalton and Mrs. Nash got to know the boys' birth mom. She agreed that the boys would have a better home with the Nash family—and Mrs. Nash has told her how proud she is of her for putting her children first.
When Mrs. Nash talks about her boys, she calls them her bonus babies—and along with her two older sons, her five heartbeats. From family dinners every Sunday to Easter photos and just enjoying time with one another, the family is thriving, together.
"Tirese is my little news reporter, my football player, my talker. He's so outgoing, he'll just talk to anyone. Tirone loves to learn, and I hope that never changes. Tirelle is my baby. From the time he came to me, from feeding him and laying him on my chest to watching him grow, that's how it's always been. We've been a blessing to each other."
This Adoption Day, the family came together to celebrate making official what they already knew—that they are a family who will always love and cherish one another.
Mrs. Nash talks warmly about her family, saying, "It's a story that I love."
We couldn't agree more.