Golden Shoes, Golden Hearts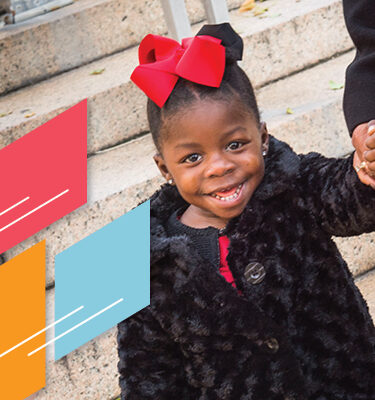 There aren't step-by-step instructions for the way a family creates a stable, loving home for their child. Each family that Children's Law Center (CLC) meets has their own unique, complex history. In Keymonie's case, this history includes just a touch of heartache and enough love to fill the toddler right down to her sparkly gold shoes.
Keymonie met Denise Long when she was just a few months old. Keymonie's mom—Ms. Long's niece—was underage, running away from home and struggling both academically and with her personal life. Soon after Keymonie was born, she was placed in foster care.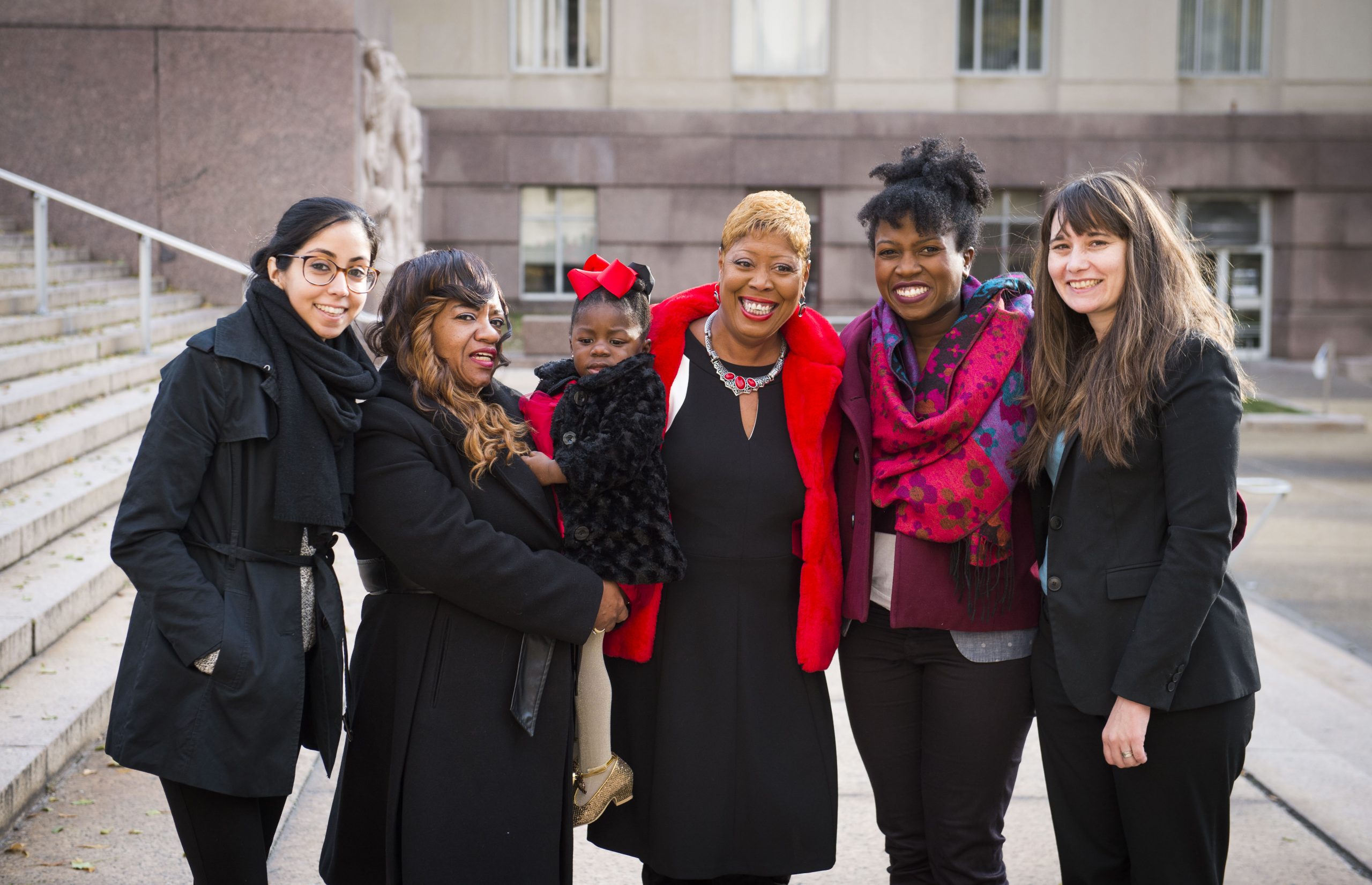 Ms. Long worried that Keymonie would be bounced from home to home if she wasn't with family. That's when she decided to foster her grandniece herself, originally setting out to foster Keymonie for only for a few months until her niece got back on her feet.
"Ms. Long's story is such a good example of family stepping in," CLC attorney Jess Sucherman remembers. "She truly fell in love with Keymonie. You can tell how much fun they have together."
While Ms. Long was hopeful that her niece could be reunited with Keymonie, her niece continued to struggle. Keymonie's mother was dealing with unhealthy personal relationships, missing enough school for legal action to be taken and wasn't prepared to raise a child on her own.
In the meantime, the bond between Ms. Long and Keymonie grew stronger. While the initial goal was to reunite Keymonie with her mom as her full-time caregiver, it became clear to both the family and Children's Law Center that it simply wasn't the safest option for her.
That's when Ms. Long decided to adopt.
"Jess got the adoption started and was one of our strongest allies," Ms. Long remembers. "Even when I was working with the pro bono attorneys she would still call to ask how I was doing and Keymonie was doing. She listened when others wouldn't—she understood."
At Sucherman's request, CLC's pro bono team recruited two WilmerHale attorneys to represent Ms. Long in the adoption. Sucherman advocated for Keymonie throughout the process.
A Message for Families
Ms. Long recounts how her best friend was there to support her, but when it came to her family, she was virtually alone. Her family members were wary of her plan to adopt Keymonie, even though her mom wasn't prepared to take care of her. They shut Ms. Long out—and in the process, Keymonie. Ms. Long looks forward to a time when her family can come together again.
"I want families in similar situations to think about the fact that each family member wants what is best for the baby, even if it's hard," Ms. Long says. "Every family has conflicts, including mine, but the entire family can work together to give that toddler a happy childhood. I know it's difficult, but I hope families read this story and choose to work together—choose love."
Ms. Long has struggled with her family's lack of acceptance, and Keymonie has suffered a loss too—the loss of her biological mom during her infancy and toddler years. But while there's loss, there's also plenty of love and laughter.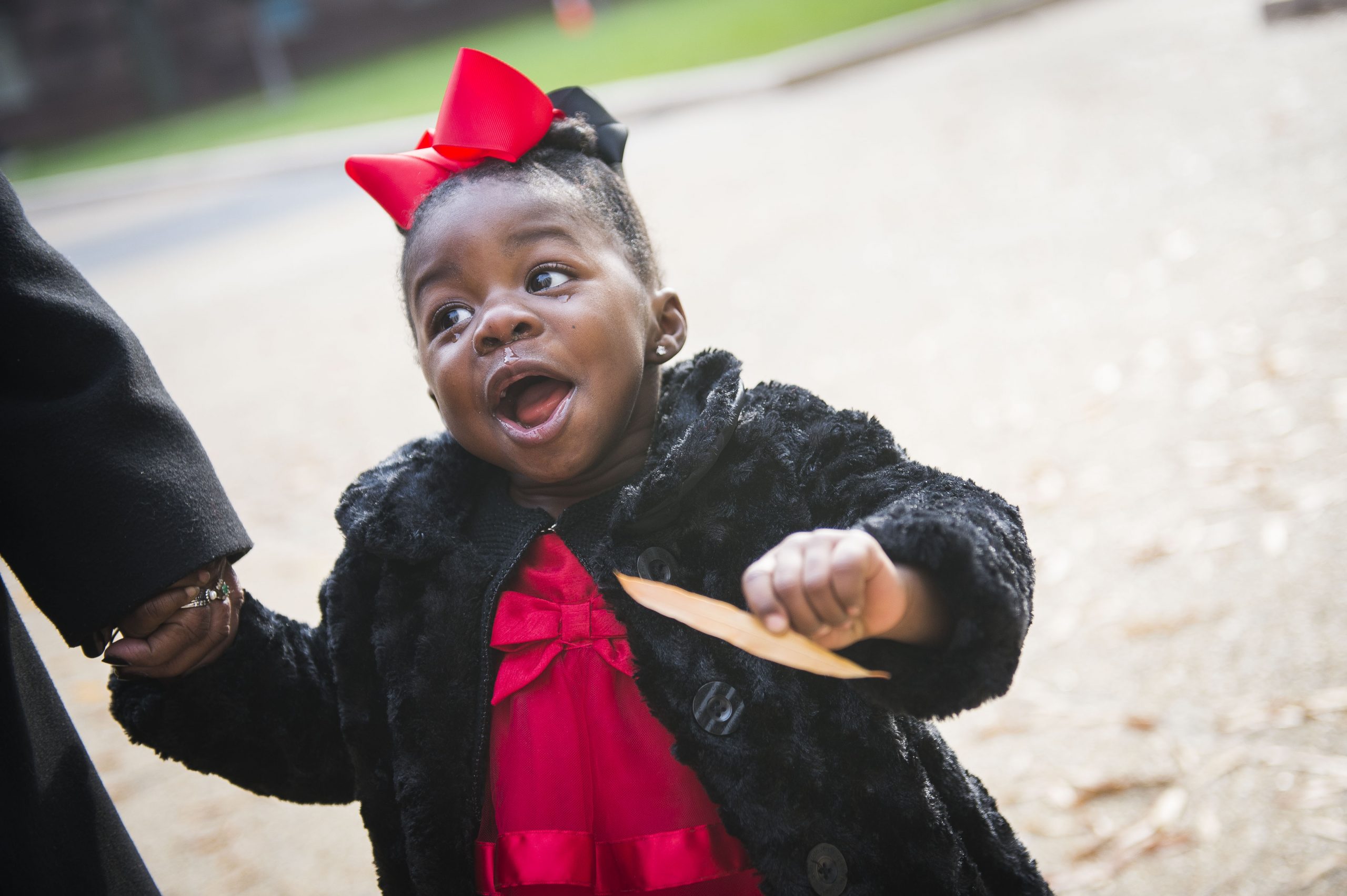 Keymonie and Ms. Long have been together since Keymonie was just 3 months old. She's now a happy, active 2 year old. As Sucherman describes her, she's "absolutely adorable and quite the fashionista."
Keymonie loves watching movies, which is a trait she inherited from her mom. It's one of the only times she'll sit still. From singing (with a firm belief she's a rockstar) to putting on her great aunt's makeup and "working" with her on a toy laptop, she's a bundle of energy.
On a cold, blustery day in November, Adoption Day, Keymonie's judge signed her adoption papers. While the journey to adoption was a difficult one at times, Ms. Long wants her family—and families going through a similar situation—to know that everything doesn't have to be perfect.
What matters is choosing love, and that's just what she did.