RJ's Journey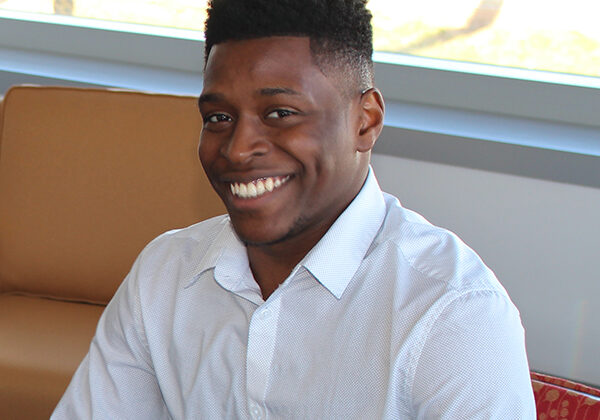 We first met RJ* five years ago when he was 15. For as long as he could remember, his life was filled with chaos – at home and at school.
The chaos at home affected RJ at school. He had a hard time sitting still and would bolt from class without warning. Sometimes, he had outbursts and called his teachers names, leading to a number of suspensions.
"Looking back, I realize I was angry… and I felt like no one was listening to me," RJ says.
RJ's home situation worsened and he was taken into foster care.
That's when a family court judge appointed one of Children's Law Center's attorneys, Allison Green, to be RJ's Guardian ad litem. Her first goal was to make sure he had a safe, supportive place to live.
But Allison's focus quickly turned to problems at RJ's school. RJ's high school was in the process of expelling him. And his repeated suspensions caused him to miss many days of school without any option to make up his work, leading him to fail several classes. RJ was on the road to dropping out.
Allison knew that like many kids in foster care, RJ's behavior could be related to the trauma he experienced. The first step toward getting him the right school support was to have him evaluated.
Parents have the legal right to make educational decisions for their children, including permission for evaluations. But RJ's mother wasn't in a position to make these decisions because of her personal circumstances. Without her, RJ's educational progress was stalling.
The law allows children to have another adult make educational decisions if their parent is not available. Allison found just the right person: a former mentor from the Big Brothers program who RJ trusted. With some persuading, RJ's mom consented. An education lawyer from Children's Law Center, D.D. Davis, took on the role of helping RJ's Big Brother navigate the school bureaucracy. RJ now had a supportive team fighting on his behalf.
"I finally felt like I had a voice and my team was listening to me," RJ says.
RJ was at long last reevaluated. He qualified for extra support at school to help him learn. He got tutoring to make up for time lost to suspensions. He also got an aide who could step in whenever RJ needed help settling down.
Still, RJ and his team became convinced that the history of conflict with his current school meant he couldn't succeed there. It was a bumpy road to get him into an appropriate school, but RJ eventually landed at Dunbar High School.
It was the right fit. After such a long journey, RJ finally graduated in 2015. He even made the honor roll in his final year. It seemed like an amazing turn around for a young man who was failing just a few years before – but it was really the result of steady support and hard work.
Today, RJ is studying to become a computer technician and has an IT internship. His future looks bright.
"My journey has been challenging," RJ says with a smile, "but my life is great now."
*We work hard to protect the confidentiality of our clients. That's why the RJ's name has been changed. All other details are true.