DC is reaching thousands more children, but timeliness and quality still lacking
Children's Law Center released its third annual Children's Mental Health Report Card today – with both good and bad news for the roughly 13,000 to 20,000 low-income children struggling with mental health issues in DC.
Whether a severe condition like schizophrenia or a disorder like mild depression, childhood mental illness that is left untreated can deny children an opportunity to lead a healthy and happy life – and will ultimately deny the District of their talent.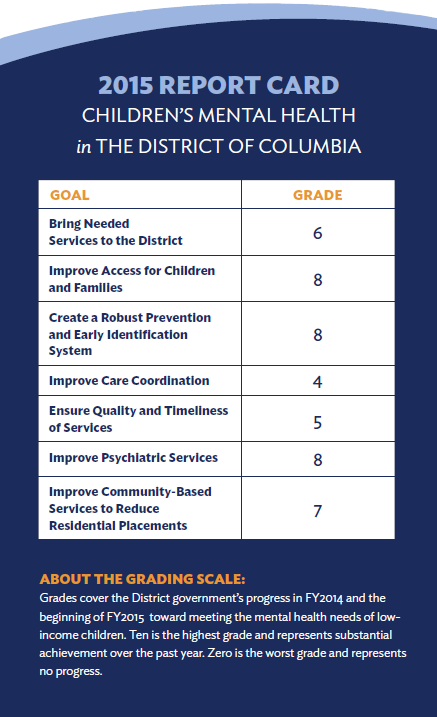 The good news is that for the first time since we have issued our ratings, more DC children than ever are now getting help for their mental health needs.
The 2015 Children's Mental Health Report Card finds that District agencies reached over 12,500 kids with mental health services last year – about a 30 percent jump.
The increase is due in part to DC's intense pressure on the Medicaid managed care organizations (MCOs) contracted to manage healthcare to low-income children, including those with mental health needs.
There is also very good news when it comes to expanding the cadre of skilled professionals who can identify and treat children with mental health needs.
DC is now requiring pediatricians across the city to screen children for mental health needs during regular well-child visits – meaning that many more children will have the chance to get diagnosed and treated earlier. In addition, the DC government has launched a new effort to help pediatricians manage moderate mental illness through a network of on-call psychiatric professionals who will provide them with brief advice and referrals.
Despite this good progress, the District is still not making enough progress in several critical areas that are harming children's mental health.
Children are still waiting much too long to get help – and the quality of the help they are getting is still poor. If the goal of mental health treatment is to improve a child's health, it must be the right treatment, offered at the right time and proven to be effective.
In addition, the Report Card finds that DC still has not made progress in improving care coordination. Very few children have case managers to help their families navigate the complex network of providers, programs and services that comprise our mental health system. And, these entities often do not share information about progress as a child's treatment is handed off from one provider to another.
Finally, our report card finds that the District's bureaucratic system of mental health care is still too fragmented to be fully effective.
Part of the problem is that there are multiple agencies that oversee children's mental health, including the DC Department of Behavioral Health, Department of Health Care Finance, and several others that serve the mental health needs of children in foster care, the juvenile justice system or in our public schools.
Today, none of these agencies has a clear picture of children's mental health across the District. These agencies need to do more to improve case management for individual children, identify and fill in gaps in services, ensure that families are connected to care, and standardize how they are tracking how many children are getting services.
Ultimately, until DC's mental health system can truly operate as a system, thousands of kids will continue to fall through the cracks.