Over the last year, partners, associates, staff, clients and vendors dedicated themselves to fundraising to serve DC's children. Now, we're ready to reveal the 2019 Champions for Children winners.
Please join us in celebrating Latham & Watkins LLP, Mayer Brown LLP, Miller & Chevalier Chartered and Bates White Economic Consulting as our 2019 Champions for Children Award winners.
We are extremely thankful for each and every one of these Champions – even more so today. Their ongoing support is the real reason we can adapt our operations and continue serving children and families during these extremely uncertain times.
Through generous annual gifts and engagement with Children's Law Center's work, these firms stood out among other distinguished competitors:
Champion for Children – 250+ Attorneys in the DC Office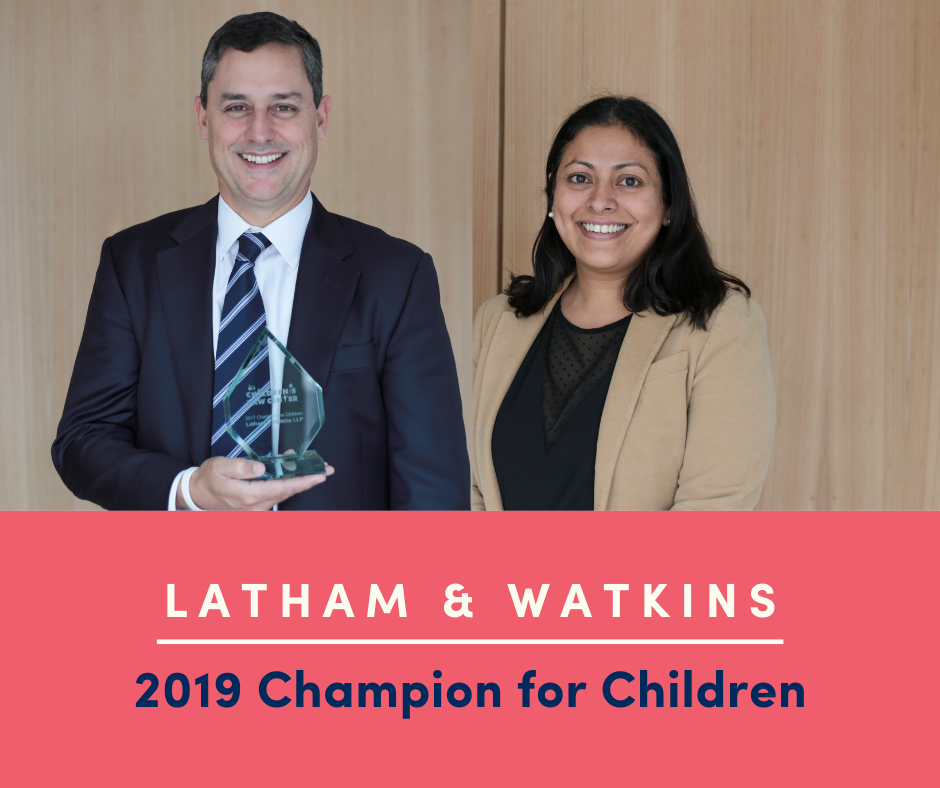 Latham won the Champion for Children title in the category for firms with more than 250 attorneys in their DC office. This recognition marks Latham's fifth overall receipt of the award, making the firm the most awarded in Champions for Children history! Latham's team of partners, associates, paralegals and more, worked together to secure this impressive win. Equally impressive, Latham is also one of CLC's most longstanding community partners, contributing countless pro bono hours towards helping DC children with special education and housing conditions issues.
---
Champion for Children – 100 to 249 Attorneys in the DC Office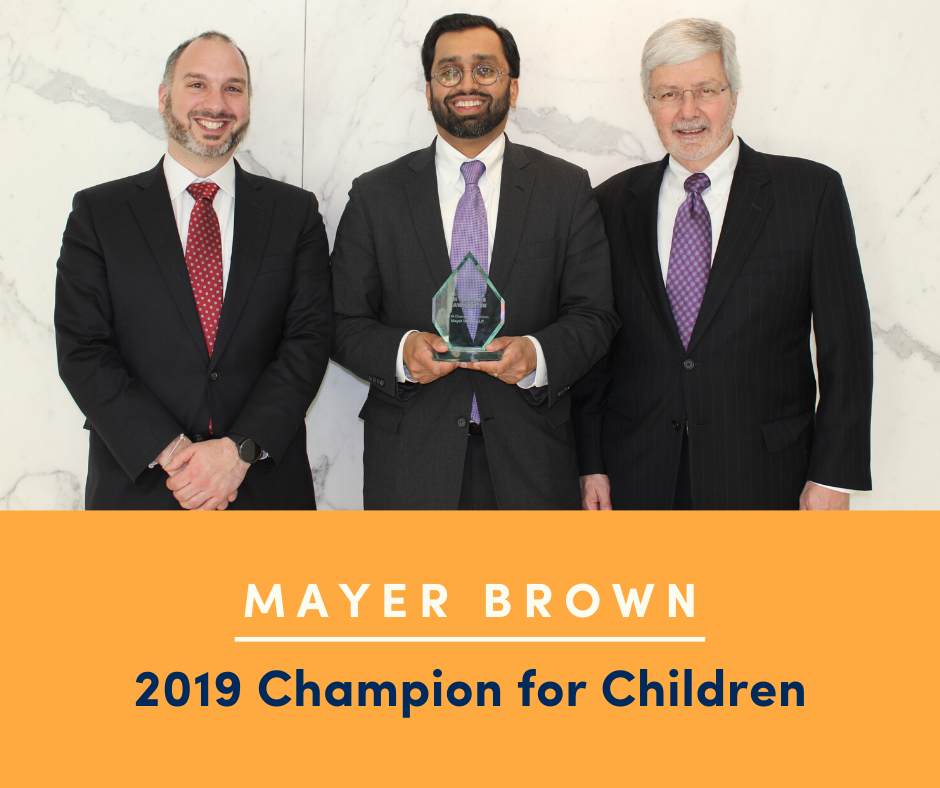 The Mayer Brown team won in the 100-249 attorney category for the third consecutive year! Mayer Brown is committed to making a difference through their Corporate Social Responsibility program, contributing their skills, experience, time, and philanthropic support to the most urgent needs of their community, including childhood education in DC. For more than a decade, Mayer Brown's generosity has empowered CLC to ensure children with special education needs receive the services they require to succeed. Additionally, the firm's "Making the Case for Kids" community service and pro bono campaign has positively impacted children's education in the District.
---
Champion for Children – 1 to 99 Attorneys in the DC Office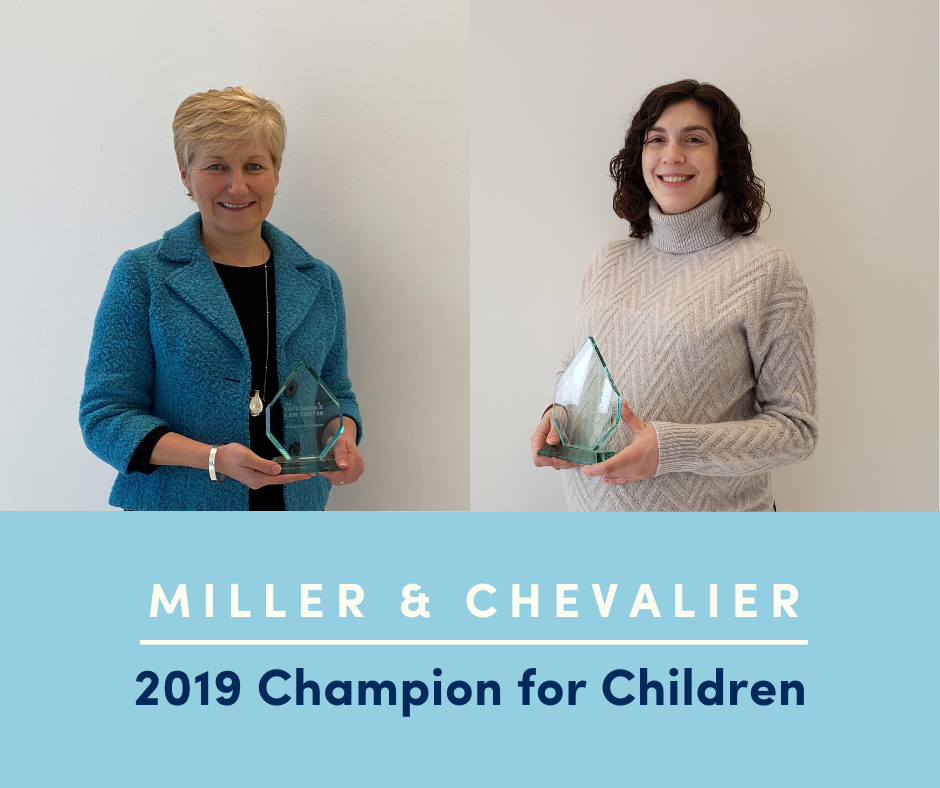 Miller & Chevalier has earned its inaugural win in the 1-99 attorney category! Miller & Chevalier has a strong tradition of pro bono work and investing in its local community. In addition to participating in our fundraising campaign, the firm has partnered with CLC to represent DC children in special education, custody guardian ad litem and caregiver cases, as well as conducting research projects that support our advocacy efforts. Miller & Chevalier's support helps CLC ensure that thousands of District children are offered the quality education and healthcare they need.
---
Corporate Champion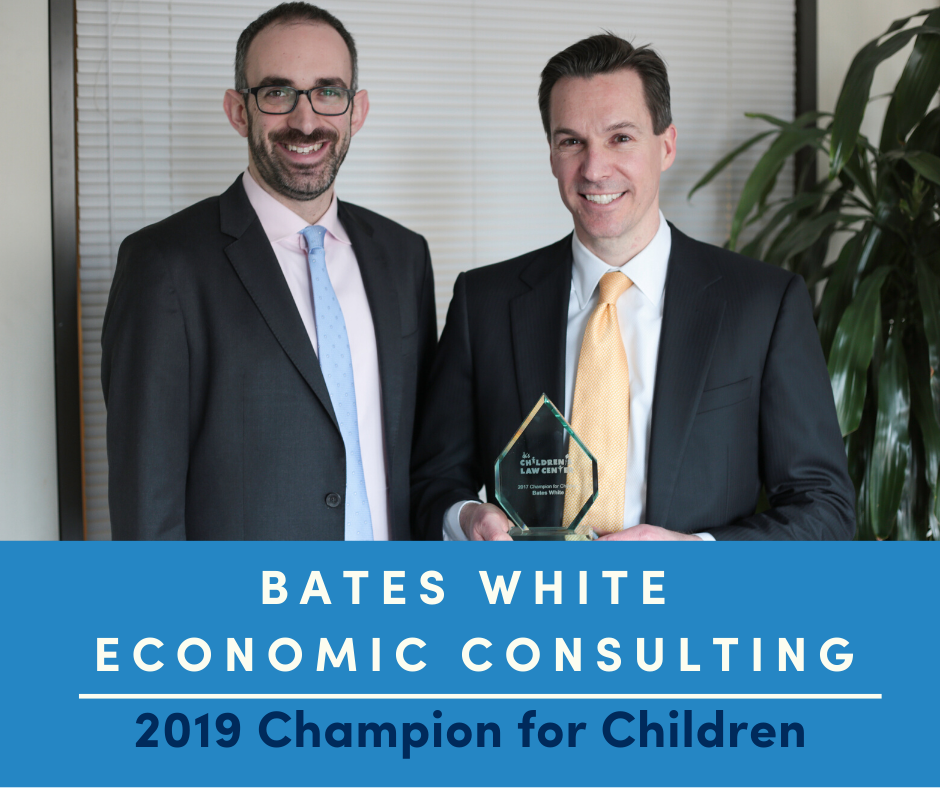 For the third year in a row, Bates White Economic Consulting has won the Corporate Champion title – the only non-law firm to win a Champions for Children award! As in previous years, Bates White staff employed creative means to fundraise on behalf of CLC, including competing in a Family Feud-style game. Bates White's invaluable support has made CLC initiatives like our healthy housing work possible. The impact of Bates White's commitment to the Champions for Children campaign cannot be overstated – it makes positive health outcomes, educational gains, and family support possible in our community.
Celebrating our Committed Champions
We are moved by the generosity of our partner firms year after year. Once again, the Champions for Children campaign raised critical funds for DC kids, allowing us to reach 1 out of every 9 children in the District's poorest neighborhoods.
Congratulations to this year's winners, and thank you to all participating firms!
To participate in the 2020 Champions for Children campaign, please contact Erica McCollum at emccollum@childrenslawcenter.org.