Every day, it seems, there is a news story about yet another state passing some form of harmful, anti-trans legislation or a video of an elected official spewing hateful words about trans youth and adults. Although DC's elected officials have stood up for and celebrated their trans constituents, most trans residents in DC are too familiar with the rejection that these new laws signify.
At Children's Law Center, we are grateful for our trans colleagues, our trans supporters, our trans allies and our trans clients – and all the work they do to help youth, especially in this difficult time.
Last month, I shared our new strategy to disrupt racism and other forms of oppression. Many DC trans youth face the complex combination of racism and transphobia. At Children's Law Center we've met trans youth who entered foster care due to transphobic abuse at home and other youth who transition while in foster care but live with foster parents who aren't fully equipped to provide gender-affirming spaces and care.
Each year, we represent more than 400 youth in foster care – many in their pre-teen or teen years when they, like their peers, are exploring their identities. We have seen gaps in all the systems meant to support these children: child welfare, education, behavioral health.
While all youth in the foster care face significant barriers to stability, the barriers are often higher for trans youth:
DC has a shortage of gender-affirming foster and group homes for trans youth, forcing frequent moves – sometimes as often as every three months.
Going to a new home often means changing schools as well, forcing trans youth to navigate the potentially dangerous situation of coming out again and again and losing access to any support they'd had in a previous school.
Instability at home and at school also means it is harder to access consistent, affirming behavioral health support to help address the trauma they've already endured and continue to face in an increasingly transphobic world.
The trauma, instability and lack of strong support systems leave trans youth at higher risk of being trafficked, being sexually abused or experiencing homelessness.
"It took years, and an entire team of lawyers, investigators and social workers, to line up one of our trans clients with affirming, long-term behavioral health support," shares Children's Law Center lawyer Megan Conway.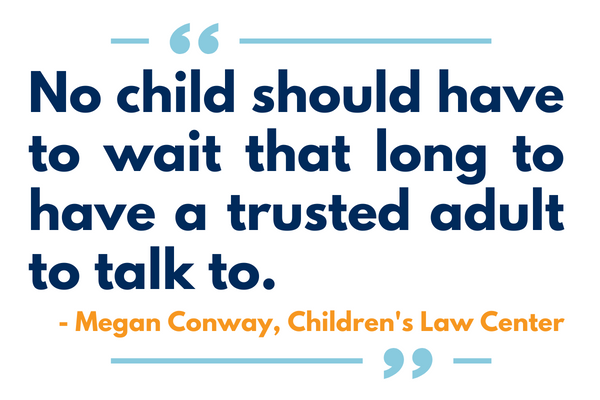 "No child should have to wait that long to have a trusted adult to talk to – someone who understands the unique challenges they're facing and celebrates exploration of their identity."
As an organization that works with thousands of youth each year, we are committed to working alongside our trans clients to make our health, education and child welfare systems more affirming and responsive. We were proud to be invited along with other partners to train judges to do the same for trans youth in their courtrooms.
The trans youth we work with fight so hard to be safe, seen, accepted and understood. Join us in listening to them, seeing them, supporting them and making the world safer for them.
Building a Successful Behavioral Health System
Read how we're working to improve our behavioral health system — one that supports our LGBTQ youth and their families and, in doing so, strengthens our entire community.
Read Our Report