Dr. Elias Zerhouni, former director of NIH and a leading medical innovator, says there is cause for "rational optimism" when it comes to the future of vulnerable children's health.
Why? Shifts in public opinion have led to popular support for children's health investments. In addition, innovative examples abound that can be replicated to connect children to care.
Dr. Zerhouni recently joined Children's Law Center to share his insights about healthcare reform and children, including a look at promising trends in the District and globally. Hosted by Sidley Austin, the Oct. 30 discussion was moderated by Executive Director Judith Sandalow and brought together leaders from the legal, business and healthcare communities.
District children, especially those who live in poverty, have struggled to benefit from previous health reform efforts. Officially, about one in four District children lives in poverty and many more live in households that struggle to meet life's basic needs. Substandard housing, undiagnosed learning disabilities, and difficulty accessing basic services have had negative long-term effects on these children's health.
Despite these challenges, Dr. Zerhouni believes that "disconnected" youth are poised to be connected to better health. It will take the right investment and focused effort to connect children to good healthcare, he says, through "parents, families, schools and institutions like Children Law Center."
Among Dr. Zerhouni's reasons for optimism:
The increasing political will to invest in children's health. Healthcare has moved from being thought of as a privilege to a universal human right over the past several decades, especially for children.
More people understand the "exponential pay off" of investing early in children's health, which leads to fewer days lost to illness and fewer lost days from school.
There are many successful models that can be replicated. Progress has been made against other enormous health challenges – from expanding childhood vaccinations to fighting HIV and AIDS –through investments in technical, economic and cultural shifts.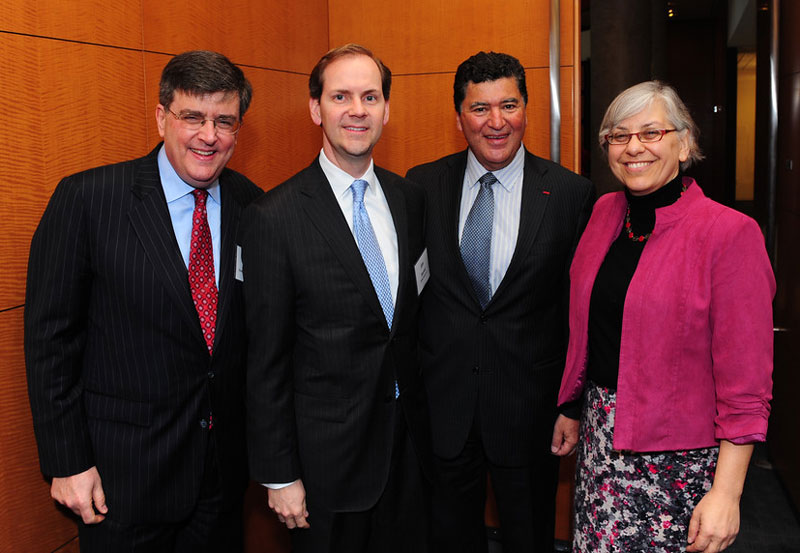 PHOTO LEFT TO RIGHT: Ted Segal of Stradley Ronon, Jim Stansel of Sidley Austin, Dr. Elias Zerhouni and Judith Sandalow.
Dr. Zerhouni also emphasizes the importance of institutions connecting children to health care, institutions including Children's Law Center.
Through our medical-legal partnerships, Children's Law Center puts lawyers side-by-side with pediatricians to find legal remedies to health problems. We were an early pioneer of the medical-legal model, and currently work with pediatricians in five health centers within Children's National Health System and Mary's Center.
Dr. Zerhouni is the third speaker in a series that Children's Law Center has held this year, bringing visionary leaders together with District business and legal audiences to discuss trends in education, health and child welfare. Upcoming speakers in 2015 will include Maryland Governor Martin O'Malley and Melody Barnes, former domestic policy advisor to President Obama.