"Raising my grandsons brings so much joy to my life," says Mr. Waters, one of the many grandparent caregivers Children's Law Center works with every day. "Taking care of them, doing things for their benefit – that's joy and purpose."
Mr. Waters' sentiment is one we've heard often from the grandmas, grandpops and
abuelitos
across the District who step up with love and commitment to parent their grandkids. They make up about half of all primary caregivers in our guardianship, adoption and other caregiver cases.
There are times when a grandparent wants to assume a parenting role because their adult child is struggling with mental illness. Other times the mom or dad has sadly passed away. No matter the issue,
we know how important it is to help parents and grandparents navigate these complexities so the child has the stability, support and love they need.
Join us in celebrating your family and grandfamilies across the District like Mr. Waters'.
Over ten months, we helped Mr. Waters secure custody of his 12- and 7-year-old grandsons, Crevonte and Kaire, when their mother was unable to care for them. With Children's Law Center's help, the grandfamily was also able to move into a special housing development for grandparents raising grandchildren.
With a support system made up of local church members and fellow grandparents from his residential community, Mr. Waters reflects that becoming a grandparent caregiver has been life-changing.
"This role was an adjustment and struggle at first. But God intervened in my life and made it possible for me to experience raising my grandsons," he shares. "Now that I have the boys and the help of my support system, I see that I'm saving lives and doing the right thing. I try to instill in them the quality of care that my mother instilled in me. And I couldn't have done it without Children's Law Center."
Cherish a Grandparent in Your Life
This Grandparents Day, we are pleased to announce a new way to honor a grandparent or grandparent figure in your life! Send a card to a grandparent who has made a difference – knowing that your support will help the many important grandparent caregivers we meet every day.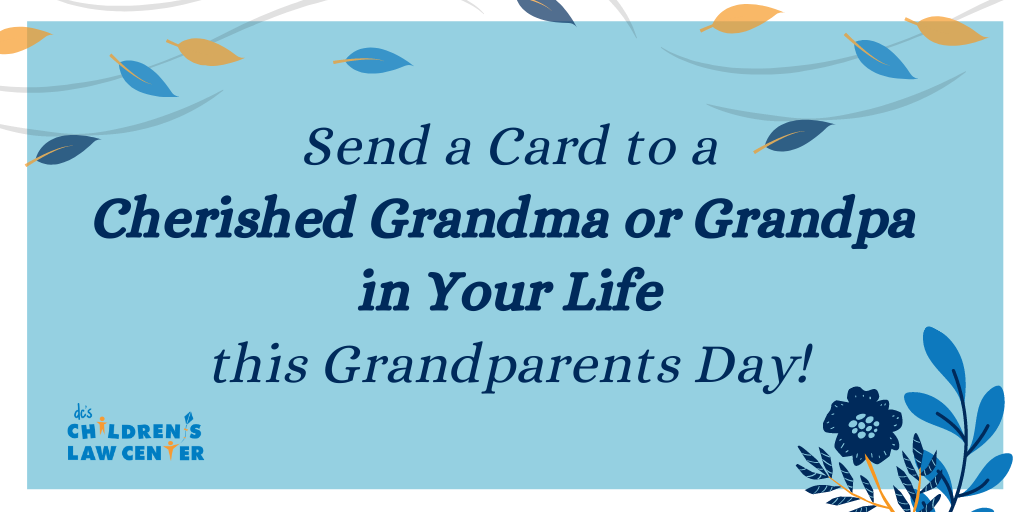 With each gift, we will mail or email a personalized card to your loved one, letting them know that you have made a gift to Children's Law Center in their name.