A long-standing children's advocate was "adopted" by Children's Law Center Tuesday.
In a surprise Nov. 17 presentation at the Van Ness Feldman law offices, former Louisiana Senator Mary Landrieu, now an advisor at the firm, received an honorary adoption decree from Children's Law Center.
 Executive Director Judith Sandalow awarded the decree in honor of Landrieu's tireless efforts for DC's children.
"Senator Landrieu combines deep personal commitment to children and families with the strategic know-how to use her power to make change," said Sandalow.
Sandalow first met Landrieu in 2001 when Children's Law Center was but six dedicated staff members working to help a couple hundred children in DC.
As chair of a senate committee focused on DC, Landrieu had a window into how increasing numbers of children in foster care overwhelmed DC's child welfare system at the time.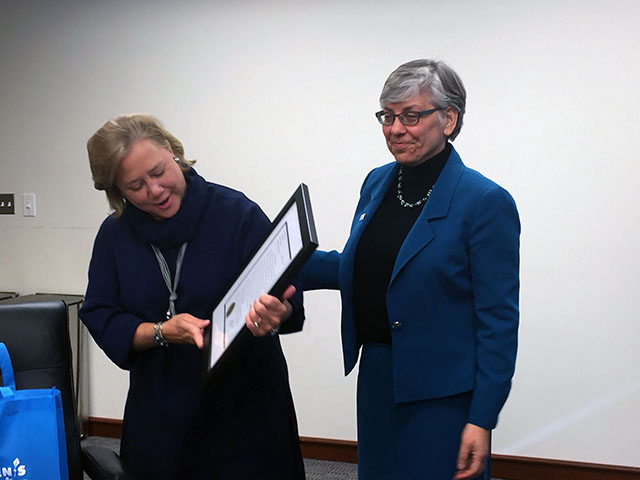 In response, Senator Landrieu directed additional money to the DC Superior Court so abused and neglected kids could have a dedicated advocate while in foster care. The goal? Ensure all children removed from their family would have a high quality lawyer looking out for their best interests as DC worked to find these children a permanent, stable home.
Those Congressional funds ultimately allowed Children's Law Center to expand its work with foster children and provide them with comprehensive support, including a focus on their health and education needs.
Landrieu's commitment to vulnerable children is rooted in her own personal experiences. She and her husband have two adopted children of their own and Landrieu's husband is also adopted.
 "Everyone in my family is adopted except for me. Now I can say I too am adopted," joked a misty-eyed Landrieu after receiving her adoption decree.
"I just wish that we had a center like [Children's Law Center] everywhere in the country."