Imagine you are a pediatrician who sees 800 children in your clinic – not each year, but each month. Now imagine that many of the kids you see are chronically hungry, living in run-down and unsafe housing, or are struggling with a learning disability. These are the kids Dr. Nia Bodrick sees at the Minnesota Avenue health clinic of Unity Health Care in Northeast DC.
"The patients we see have a lot of non-medical issues that affect their health, and there's only so much advice I can offer in my limited time with them," said Dr. Bodrick. This is why she's so happy to have a new partner at her clinic: Children's Law Center.
Starting soon, Children's Law Center attorney Adrian Alvarez will be working side-by-side with Dr. Bodrick (pictured together at left), becoming a resource for children whose health problems can't be solved by medicine alone.
Unity's Minnesota Avenue clinic had 1,000 walk-in patients last month, many of them families living on the brink of poverty. Dr. Bodrick and her team of social workers and nurses helped every family with their health needs. But having Alvarez on site two to three days a week will allow them to help these families in deeper ways.
Located in a former grocery store on a busy street near a bus stop, the Minnesota Avenue clinic is poised to become a community hub for family health. Despite its warehouse appearance, the staff have made the space inviting with a colorful mural and bookshelves in the pediatric waiting area. And, the building's size has a benefit. Because of its large waiting room, the Children's Law Center–Unity team will be able to offer pop-up health training sessions for Ward 7 parents in the space.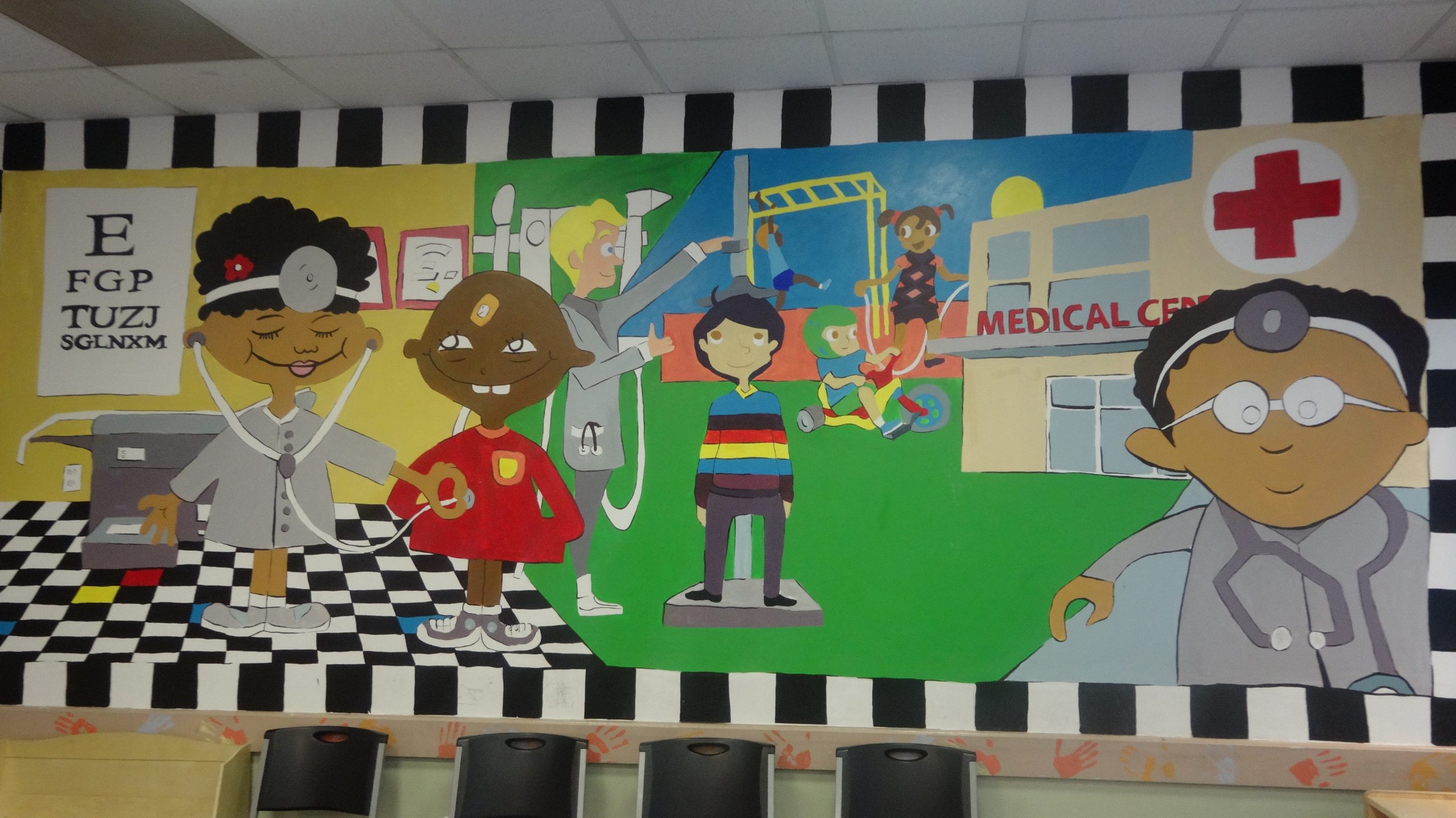 The partnership with Unity brings Children's Law Center into a total of six health clinics across the District. Our lawyers already work side-by-side with pediatricians at Mary's Center and Children's National Health Systems clinics, reaching about 1,500 children and family members each year with health needs. The Minnesota Avenue clinic will be the first time we will be in Ward 7, which has one of the highest poverty rates in DC.
Attorney Alvarez will be on site at Unity but he won't be alone. He'll be supported by two additional Children's Law Center lawyers—Tracy Goodman and Kathy Zeisel (pictured below with Alvarez)—who will provide support and training to the Unity staff. "We'll do whatever it takes to meet the need at Minnesota Avenue," said Goodman, the director of our Healthy Together program. "The clinic staff can turn to us with questions that they've never been able to have answered before, which will in turn improve Unity's care of their patients."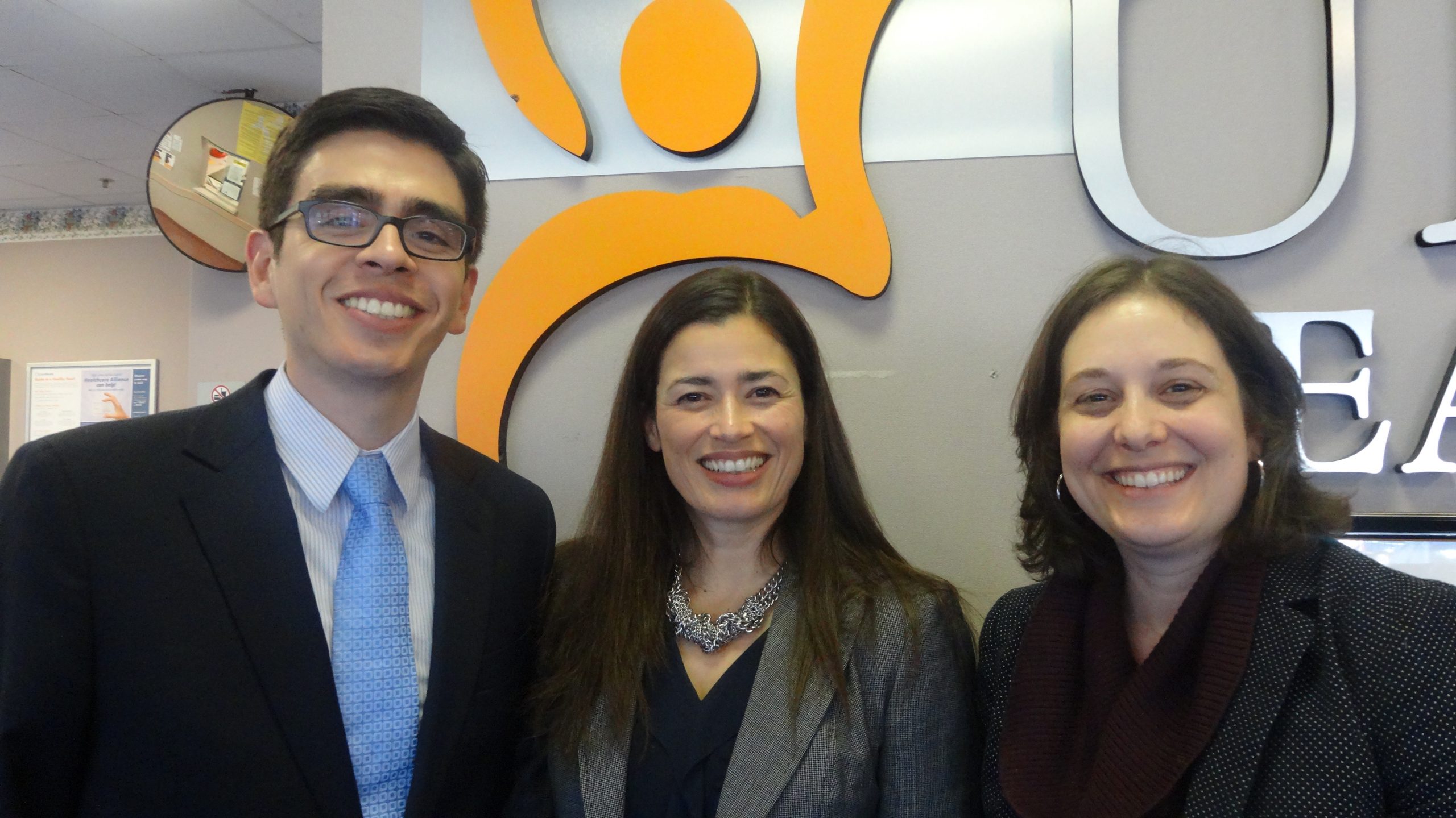 Children's Law Center is excited to join Unity. We couldn't have done it without the major support of our donors, including The Advisory Board Company, McDermott Will & Emery, May Liang and Jim Lintott, Elise Rabekoff and Chris Gladstone at Quadrangle – and all of those who gave a little more at our 2014 Helping Children Soar Benefit specifically for this purpose.
Our medical-legal partnership with Unity is off and running. Last week, the Children's Law Center team led their first training for the Unity staff, and met with all the providers for the first time. The doctors and nurses asked lots of questions and were enthusiastic about having a legal expert in the building soon. Alvarez will begin office hours at the clinic in the coming weeks.
"I am so excited to have a lawyer with us at this clinic," said Dr. Bodrick. "Now, when my patients come to me with non-medical issues, I know I'll have a partner that I can turn to, who can sit down with them and give them good legal assistance."