The competition was fierce! Partners, associates, staff, clients and even vendors worked side-by-side, fighting for the coveted title: Champion for Children. Now, after a year of fundraising campaigns, delicious baking competitions and more, the results are in.
Join us in celebrating Latham & Watkins LLP, Mayer Brown LLP, Fish & Richardson P.C. and Bates White Economic Consulting as our 2018 Champions for Children!
Through generous annual gifts and engagement with our work, these firms stood out among the competitors:
Champion for Children – 250+ Attorneys in the DC Office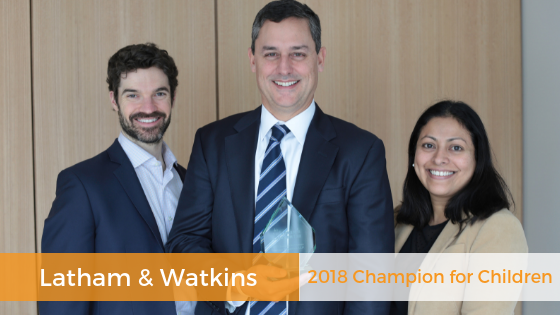 Latham earned the win in the category for firms with more than 250 attorneys in their DC office. At Latham & Watkins, corporate social responsibility is a core part of the company culture. During Latham's campaign, everyone, from paralegals to partners, worked together, making it possible for the firm to donate even more critical funds than last year. In addition to its annual Champions for Children participation, the Latham team is also a major CLC pro bono partner. As a matter of fact, the team performed close to 245,000 hours of pro bono work in 2018 alone!
Champion for Children – 100 – 249 Attorneys in the DC Office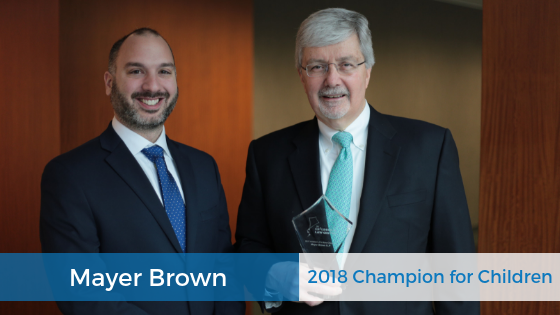 Mayer Brown won in the 100-249 attorney category. Through Mayer Brown's Corporate Social Responsibility program, they have a simple mission: they strive to make a difference for others. That's why they work directly in our community to make a difference by offering their skills, experience, time and philanthropic support. Supporting the community is a hallmark of Mayer Brown's heritage and its ongoing mission. One of Mayer Brown's philanthropic focus areas includes childhood education. The firm's support empowers CLC to ensure 100s of special education and at-risk children are receiving the education services they need to succeed, both through legal advocacy for individual children and through its local policy work. Mayer Brown has been a valued CLC partner for more than a decade!
Champion for Children – 1- 99 Attorneys in the DC Office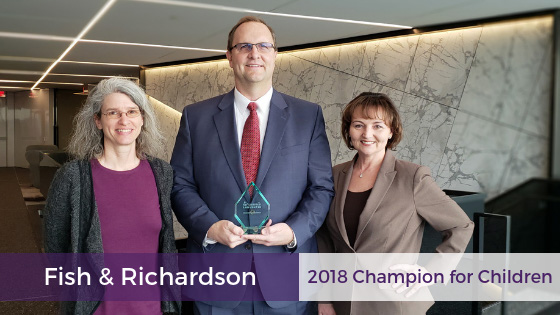 Each Fish office, including DC, has a principal-level attorney who focuses on finding and sharing pro bono opportunities in the firm. Its attorneys are passionate about supporting each community they work in through partnerships, competitions and corporate gifts. Fish leadership strongly encourages all of its legal professionals to take on pro bono matters as a part of their professional lives, in addition to participating in our advocacy campaigns. On average, Fish & Richardson lawyers spend 50+ hours a year on pro bono matters. The team is dedicated to family law as well. This is the Fish team's inaugural win! The Fish team won in the 1-99 attorney category.
Corporate Champion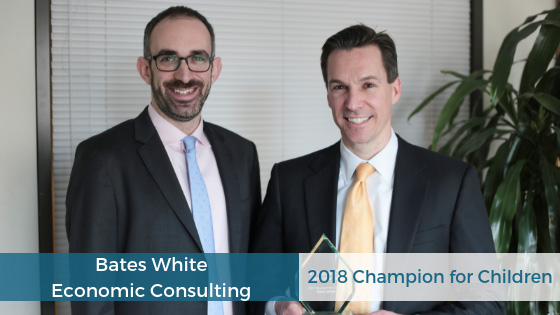 Bates White Economic Consulting is the only non-law firm to win a Champions for Children award. The firm has partnered with Children's Law Center for more than a decade. In 2018, Bates White employees joined together to creatively raise money for the campaign. Through one initiative, the company presented a cooking competition fundraiser. Though the carrot cake won the Great Bates White Bake Off, children are the real winners through this campaign. The business believes in empowering its team to give back, making lasting impact happen. As a matter of fact, in 2018, they donated a combined total of more than $165,000 to the community!
(Close To) A Decade of Champions
It has been nearly a decade since we began this campaign, and every year we are blown away by the generosity of the firms we work with. This year, the campaign raised more than $1.1 million for DC kids! These contributions empowered us to help thousands of children and families, reaching 1 out of every 9 children in DC's poorest neighborhoods.
We're sending out a huge THANK YOU and congratulations to this year's winners.
To participate in the 2019 Champions for Children Campaign, please contact Erica McCollum at emccollum@childrenslawcenter.org.