On November 8, partners and supporters across the legal community gathered to celebrate Children's Law Center Healthy Together Director, Tracy Goodman. The DC Bar Foundation honored Tracy with the prestigious Jerrold Scoutt Prize – an award that recognizes a full-time legal services lawyer who has demonstrated a career-long compassionate concern for their clients.
Compassion was the theme of the night. During her two decades of service, Tracy has built a truly incredible program out of compassion, determination and skill.
In developing one of the earliest medical-legal partnerships of its kind, Tracy expanded what it means to provide legal services: embedding lawyers in clinical settings as part of a patient's medical team, training medical professionals to screen for health-harming legal needs and then successfully using the law to resolve barriers patients face to their health and well-being.
Colleagues and clients – both past and present – joined to recognize Tracy's impact on their lives and the lives of DC children and families. Some highlights: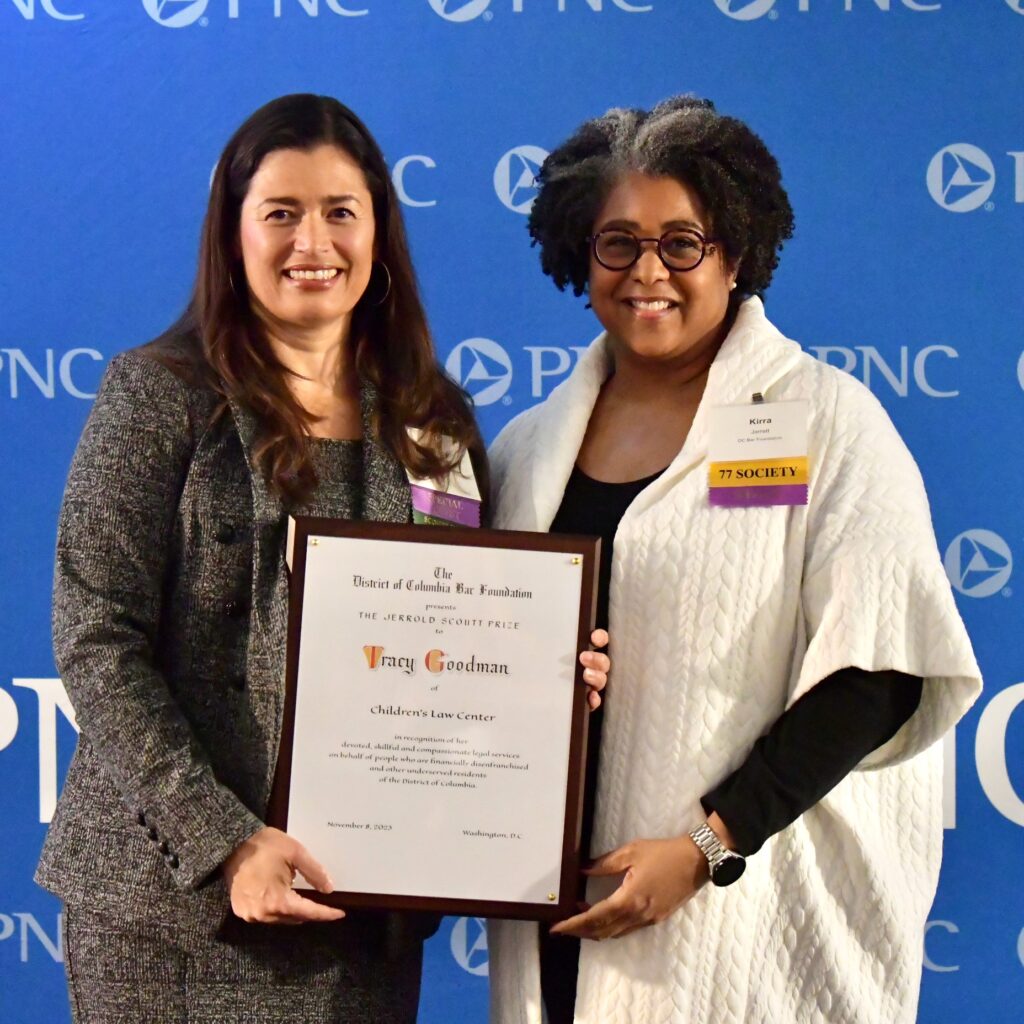 Children's National pediatrician and past president of American Academy of Pediatrics, Dr. Lee Beers – who worked next to Tracy at one of the Children's National clinics – recalled:
"Tracy treated every single client who walked into her office with care and respect and dignity. And Tracy was able to work with them in the most thoughtful and collaborative way to break down those barriers that they had to health and wellbeing for their children."
Children's Law Center Executive Director Judith Sandalow underscored Tracy's impact:
"Over the years, Tracy has built the program we now call Healthy Together into a 20-person team that reaches more than 2,000 children and families every year. She nurtured relationships with dozens of pediatricians and expanded our partnerships from one clinic to seven. She did it first by being a hard-working, caring and effective lawyer herself. A lawyer who stayed up all night with to file a special ed appeal in federal court. A lawyer who made every client feel that they mattered to Tracy more than anything or anyone else in that moment."
Former Children's Law Center colleague and current University of Michigan Law School professor Vivek Sankaran shared:
"What I was amazed about is not just Tracy's intellectual abilities – she's a wicked-smart lawyer – but it was that human element, the ability to sit down with people in crisis and just be with them. And I have met very few professionals who have that balance of empathy, wisdom and compassion."
This celebration was a wonderful opportunity to see the breadth of her impact not only on children and families in DC but also across the country through the practitioners she has trained and inspired.