The who's who of Washington's legal, business and philanthropic communities joined us at the Kennedy Center last week to honor leading children's champions and celebrate important progress for DC's children.
The Helping Children Soar benefit raised $1.2 million for children in crisis, a record-breaking amount for Children's Law Center.
"The generosity of our supporters means we can fight for more children who have been abused and neglected, whose schools are failing them and whose health is in danger," said Executive Director Judith Sandalow.
A highlight of the night: remarks by Ms. Cheryl Owens, who fought to get her 6-year-old son Noah's school to monitor his diabetes so he could safely remain in class. Between his two-hour bus rides and the lack of a trained health aide, Noah's blood sugar would become dangerously low at school. He had to be rushed to the emergency room again and again.
"No matter how many times I spoke to the school nurse and the principal, nothing changed. We needed someone to regularly check his blood glucose and to intervene if it got too high or too low," Ms. Owens said. "But somehow, even with all the calls and meetings – and the calls made by Noah's doctor – nothing changed."
That's when Cheryl finally found Children's Law Center and attorney Renee Murphy, who she calls her "Navy Seal." Renee pushed to have Noah transferred to a school closer to home and made sure all staff were properly trained in diabetes care. Once his diabetes was under control, she also worked with Noah's new school to make sure his other issues were addressed, including development delays and learning difficulties.
As a result, "Noah's doing great. He went from a boy who you couldn't understand and lashing out in frustration to a boy who is speaking, answering questions and beginning to read," Ms. Owens said at the event.
The night also honored the late Congressman William H. Gray III with the Distinguished Child Advocate Award for his lifetime achievements on behalf of children.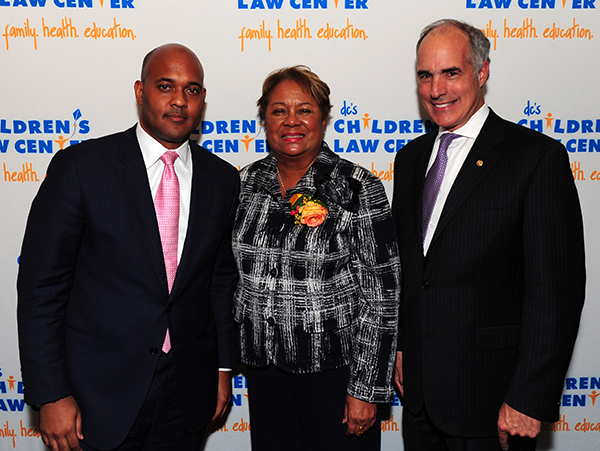 Accepting the award on behalf of the Gray family was Senator Robert P. Casey, Jr., a friend and colleague of Congressman Gray.
"The children of America had a faithful friend in [Congressman] Bill Gray," Senator Casey said. "Whether it was as a pastor, a member of Congress, chairman of the Budget Committee or head of the United Negro College Fund, in all of the roles, Bill Gray was a faithful friend to children."
Senator Casey added: "And I can say the same is true of course here in the District with the Children's Law Center, you have been that faithful friend to children. It's easy to talk about how important children are…[but] it's a whole other thing to act, and to win battles and to succeed in child advocacy."
Children's Law Center board member Justin Gray, who co-chaired the benefit, said he was particularly honored that his father was being recognized for his commitment to children's well-being. "And I am grateful that his good friend Senator Bob Casey was there to accept the award on his behalf as someone who is continuing to fight for children and families every day," he said.
The Helping Children Soar benefit also recognized Latham & Watkins LLP, this year's recipient of Children's Law Center's Children's Pro Bono Champion Award.
"When we have tough problems that need to be solved, we turn to Latham," said Ms. Sandalow. "The firm has answered our calls repeatedly, helping with large scale legislative initiatives and thorny problems related to our case practice. Latham shares our approach – which is a focus on truly transforming children's lives, not just winning legal cases."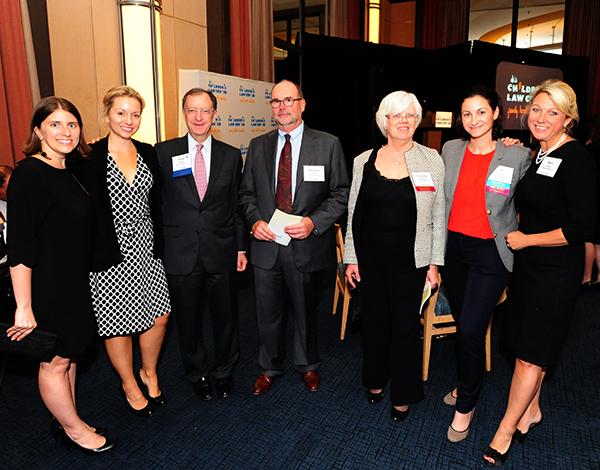 Alice Fisher, Managing Partner of Latham's DC Office, accepted the award on behalf of the firm. "We just love the partnership we have with Children's Law Center," she said. "What you all do in action every day for the District and for the children is amazing and we are so absolutely thrilled to be a part of it."
The night included Robert Raben of the Raben Group, who was the event's second co-chair. He works to promote justice across the country and around the globe, but calls DC his home.
"I care deeply about the thousands of DC children without safe families, good health or a quality education," said Mr. Raben. "I co-chaired the event for these children – and for all children who live in our nation's capital."
Children's Law Center thanks our many sponsors, donors, partners and friends who came together to make this year's benefit such a successful evening. Special thanks to Visionary Sponsor Latham & Watkins LLP and Champion Sponsor Covington & Burling LLP. [For a full list of sponsors, click here.]
The generosity of our supporters will help ensure more District children like Noah can be safe, happy and successful – and soar.
You can view additional pictures from the evening on our Facebook page.