News
Fund for Shared Insight: At Law Center, Surveys, Focus Groups, and Advisory Councils Help Embed Clients in Decision-Making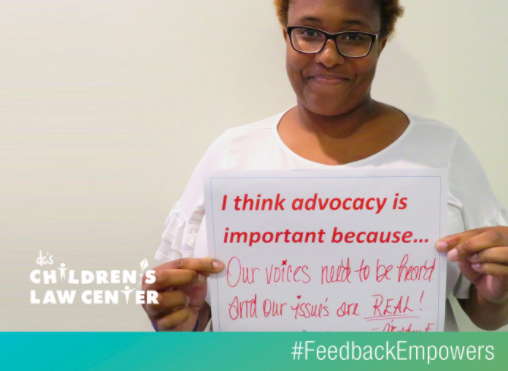 At Children's Law Center, we value incorporating client feedback into decision-making that helps result in even stronger outcomes. That's why we are proud to participate in the Fund for Shared Insight's Listen4Good survey-based program, which helps us gather client feedback and improve our outreach and practices. Fund for Shared Insight captured our excitement about this work in its interview with CLC Director of Evaluation and Learning, Holly Stevens, and our client Charday Eury:
"We know how important it is to conduct surveys of those we serve – and use them to make the changes and improvements in our work – and now we're also moving toward co-creation in partnership with our community," says Holly Stevens, the law center's director of evaluation and learning. "Listen4Good gives us the framework and the motivation and the understanding of how to do that."
Listen4Good's "Client Empowerment" pyramid, she says, offers a sort of roadmap for building from client feedback to client ownership.
Charday Eury, a hair-braiding entrepreneur and single mom to five kids, some with special needs, has been a client at the law center on and off since 2014. She has given feedback in-person and through surveys and has gotten more deeply involved sharing her opinions as a member of focus groups and the center's parent advisory council.
"As a single parent with children with special needs, I bring a different and important perspective," Charday says of the Children's Law Center's work.