It was an inspiring, fun, record-breaking night.
Over 500 of DC's leading figures from the judicial, legal, corporate, political and philanthropic communities joined Children's Law Center on Wednesday at the Kennedy Center to share their optimism about the future for District kids – and helped us raise a record $1.1 million to help children soar. 
The Helping Children Soar Benefit allowed new and long-time supporters to enjoy delicious food under a beautiful fall sky, while hearing how their support makes a lasting difference for District children. In a sea of dark suits, flashes of red-ribbons signaled the lawyers from over 100 firms who currently volunteer as pro bono attorneys with us. Together with our in-house attorneys, this legal advocacy has allowed us to help thousands of children and families so far this year gain a quality education, good health and a stable, loving family.
The evening's formal program began when benefit co-chairs Jessica Abrahams and Ted Segal welcomed supporters, sponsors and distinguished guests, including Maryland Attorney General Doug Gansler, several members of the DC Superior Court, DC Public Schools special education chief Nathaniel Beers, and others.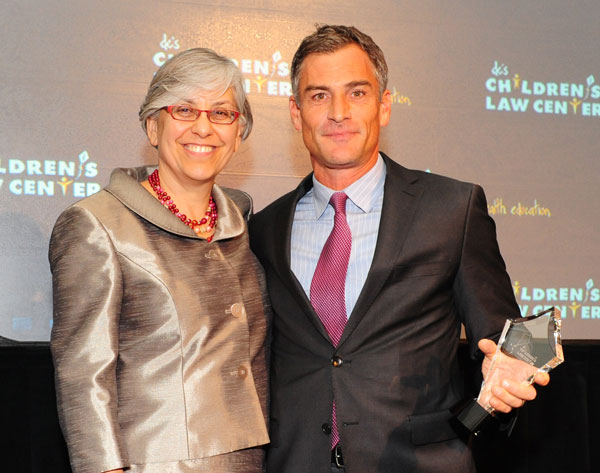 Executive director Judith Sandalow presented Crowell and Moring LLP's Dan Forman (pictured above) with the Pro Bono Champion for Children award for the firm's outstanding commitment to pro bono service.  Crowell lawyers take on twice as many pro bono cases as any other firm that partners with us, providing skillful, tenacious and unflappable lawyering for DC's most vulnerable families.
"Whether it is helping foster parents or grandparents build safe, loving and permanent families, helping parents of children with special needs get the education they deserve, or suing a landlord to get rid of the rats and mold that are exacerbating a child's asthma – we can always turn to Crowell," Judith said.
Guests also heard from 19-year-old Lena Borsellino (pictured below as a child and today), who we first met when she was 10. She had been in foster care for five years at that point and when we met her, she told one of our attorneys: "I just want a mom who will hug me every night and believe me sometimes."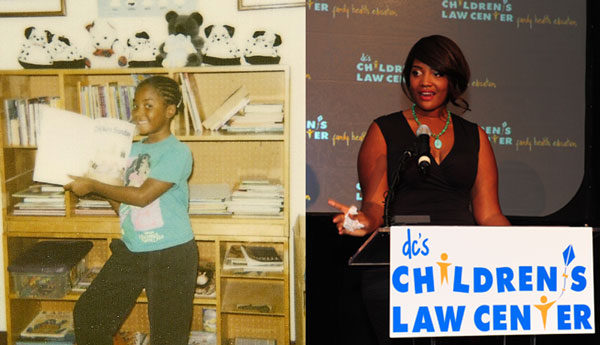 She shared her story of how Children's Law Center transformed her life – helping her find an adoptive mother and reunite with her brother and sister, who were her entire world before she entered foster care. Today, Lena is a poised young woman with her high school diploma and big dreams.  
"I'm working two jobs and own my own business to save for my future. My dream is to become a social worker and help kids like me. When I look back, it's hard to imagine getting here from where I started."
Children's Law Center thanks our many sponsors, donors, partners and friends who came together to make this year's benefit such a wonderful evening. The generosity of our supporters will help ensure more District children like Lena can be safe, happy and successful – in short, to soar.
You can view pictures from the evening on our Facebook page.