News
RELEASE: Children's Law Center Honors Skadden, Dentons and Clifford Chance for Generous Support for DC's Kids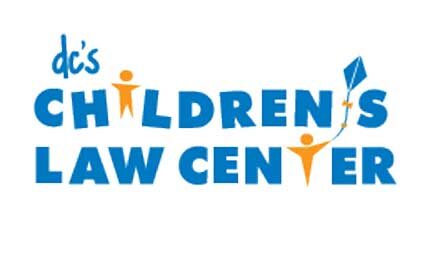 Children's Law Center Honors Skadden, Dentons and Clifford Chance
for Generous Support for DC's Kids
WASHINGTON, DC – Children's Law Center today announced that its 2016 Champions for Children Award winners are Clifford Chance US LLP, Dentons and Skadden, Arps, Slate, Meagher & Flom LLP. The award recognizes the generosity of law firms with total 2016 annual giving to Children's Law Center that exceeded that of their peers. 
Skadden is being honored for making the most generous donation of any firm with 250 or more attorneys in its DC office, Dentons for making the largest donation of any firm with 100 – 249 attorneys and Clifford Chance for making the largest donation of any firm with fewer than 100 attorneys. All three firms are longtime, generous donors to Children's Law Center – DC's largest nonprofit legal services provider, which represents at-risk children who face abuse and neglect, need loving homes or have special education or health needs.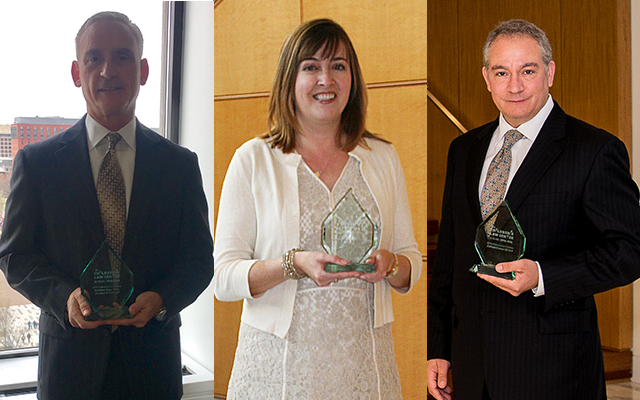 From left: Mitchell S. Ettinger  who leads Skadden, Arps, Slate, Meagher & Flom LLP's DC office; Joanne Zimolzak, Office Managing Partner of Dentons' DC office; David DiBari, Managing Partner of Clifford Chance US LLP's DC office.
The record-breaking 2016 Champions for Children campaign raised more than $1 million, which will help more than 1,300 children and families – almost one in four of the children and families Children's Law Center helps each year. More than 30 law firms and corporations in all participated in the 2016 Champions for Children campaign.
"Because of the generosity of the Champions for Children firms, many more at-risk children in DC will have a top-notch lawyer to secure safe housing, special education services and loving, permanent families," said Children's Law Center Executive Director Judith Sandalow.
"Skadden's continued, generous support has meant that more than 100 children in DC, this past year alone, are healthier because we have the resources necessary to leverage the law to combat some of the highest rates of asthma in the country."
"Dentons' continued leadership gives Children's Law Center the flexibility to handle a wide range of legal matters to help children," Sandalow said. "Dentons is a leader in the fight against human trafficking, and Children's Law Center represents a number of children who have been exploited right here in DC." 
"And thanks to support from Clifford Chance, we connect students to educational experts familiar with the best ways to get kids get on track to learn, at this time when too many District children face obstacles to education," Sandalow said.
The Champions for Children annual fundraising competition will continue in 2017.
###
About Children's Law Center
Children's Law Center fights so every child in DC can grow up with a loving family, good health and a quality education. Judges, pediatricians and families turn to us to be the voice for children who are abused or neglected, who aren't learning in school, or who have health problems that can't be solved by medicine alone. With 100 staff and hundreds of pro bono lawyers, we reach one out of every nine children in DC's poorest neighborhoods – more than 5,000 children and families each year. We multiply this impact by advocating for city-wide solutions that benefit all children. Learn more at www.ChildrensLawCenter.org. 
Contact: Luci Manning
202-371-1999