Forty percent of DC high school students witness violence in the course of just one year. About 4,000 DC public school students are homeless. There are over 1,000 DC children in foster care, and many more at risk of entering care because of parental neglect.
These are the children who are showing up to school every day expected to be ready to learn despite the trauma they carry with them into their classrooms.
How can DC schools help children who have experienced trauma settle, focus and learn in the classroom? Those are the issues addressed in a new report Children's Law Center released today: Addressing Childhood Trauma in DC Schools.
DC students who have experience trauma are more likely to be referred for special education services, have higher rates of school discipline referrals and suspensions, lower test scores and grades, and are less likely to graduate. As a result, DC's public schools must improve the learning outcomes for these children to improve academic performance overall.
"Education reforms in the District will not fully succeed if schools do not address the trauma that students bring with them to class," said Judith Sandalow, Executive Director of Children's Law Center. "Put another way: if we fail traumatized students our schools will fail as well."
Report Findings: High Rates of Trauma, Piecemeal Response
Among the trauma report's many findings:
DC's children experience high rates of traumatic experiences, including abuse and neglect, community and family violence, homelessness, and poverty – and these experiences have a profound, negative impact on their academic performance.
While many DC agencies and individual schools have good programs to help children deal with trauma, today there is no District government-wide coordination or tracking of the need for these programs or their effectiveness. More coordination, data collection and information sharing is needed so that DC schools can build on successful trauma efforts already in place.
Effective models are available from other jurisdictions that have worked to make public schools more trauma sensitive. These schools have embraced changes, big and small, that train all staff and create an environment where all children feel safe. Schools that have implemented trauma-informed practices have reported measurable success – including dramatically reduced numbers of suspensions and increased test scores.
Policy Recommendations: Better Coordination & Plans at Every School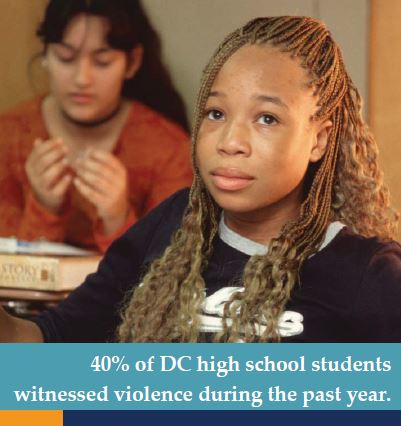 We released Addressing Childhood Trauma in DC Schools during a June 23 DC Council public roundtable on trauma and public schools held by Councilmember David Grosso.
The hearing including testimony from Sandalow and dozens of other witnesses who spoke about the trauma that DC students bring with them to schools.
Chief among our policy recommendations is the need to appoint a District-wide coordinator who can provide technical assistance to schools and coordinate trauma-informed efforts.
In addition, we call on the DC government to require all schools to adopt a trauma plan and train their staff on how to recognize and respond to trauma. These plans should be made available to the public, as should progress schools are making in this area.
"With thousands of DC students coming to school each day who have experienced trauma, the stark reality is that DC can't make significant educational progress if our schools don't address childhood trauma," Sandalow said.
"The good news is that there are an increasing number of good programs and practices in our schools, but we have a long way to go."
---
More Information
Read the full report here.
Read media coverage of the report: