Senator Heidi Heitkamp (D-ND) joined Children's Law Center Tuesday to discuss what advocates and the government can do nationally and in DC to combat what she describes as a major public health concern: childhood trauma.
Moderated by Children's Law Center Executive Director Judith Sandalow and hosted by Akin Gump Strauss Hauer & Feld LLP, the event brought together advocates, legal professionals and educators passionate about issues affecting children.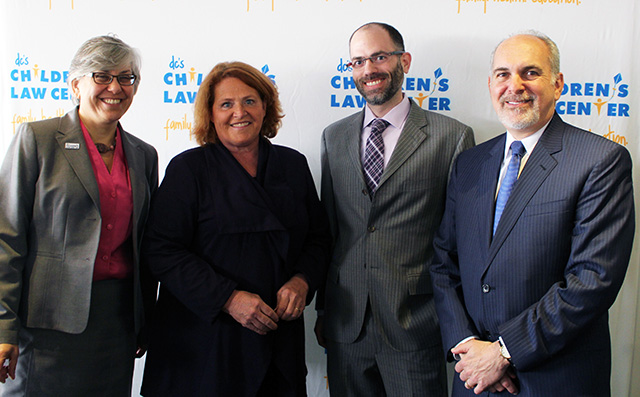 Children's Law Center Executive Director Judith Sandalow, North Dakota Senator Heidi Heitkamp, TruShield Co-founder and Principal Paul Caiazzo and Akin Gump Strauss Hauer & Feld LLP Partner Michael G. Rossetti.
Trauma, the emotional response to repeated threatening or frightening experiences that leave a person overwhelmed and unable to cope, disproportionately affects children in poverty. 
In DC, one in four children live in poverty. 
Sen. Heitkamp is known for her fierce advocacy on behalf of Native American children facing complex challenges that include extreme poverty. But her experience helping to secure a major tobacco settlement as North Dakota's attorney general influences her approach to tackling childhood trauma.
 "Let's talk about the evidence. That's what got us to address tobacco use. If you talk about trauma, it is comparable to what happened with tobacco. It is a crisis," said Sen. Heitkamp.
"Why do we not talk about this the way we talk about tobacco?"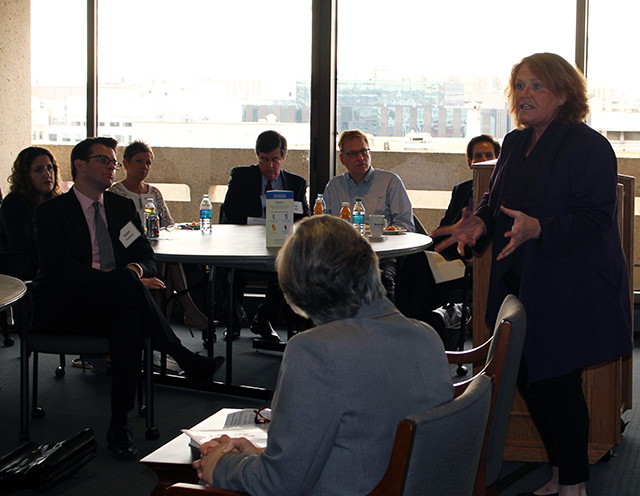 North Dakota Senator Heidi Heitkamp speaks to breakfast attendees about affects of childhood trauma. 
Research highlighted in Children's Law Center's 2015 report Addressing Childhood Trauma in DC Schools shows young children's brain development is affected by exposure to trauma, negatively impacting everything from language development to emotional responses.
"The science is there, the business case is there. Take education for example, we won't succeed at reforming DC schools unless we address the trauma so many children bring into the classroom." said Sandalow.
"If we fail traumatized students, our schools also fail."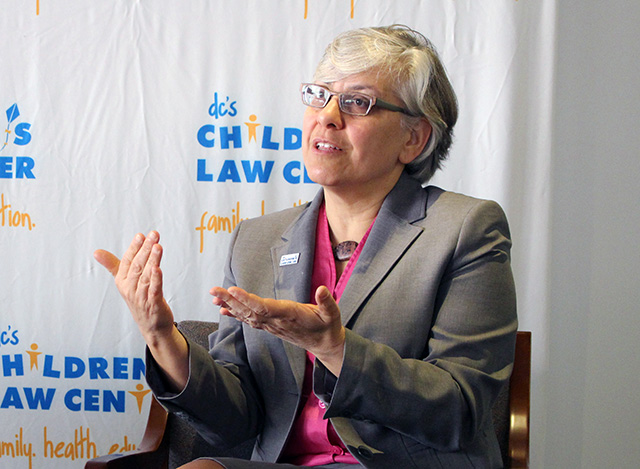 Children's Law Center Executive Director Judith Sandalow explains importance of trauma-informed schools.
During the 2013-2014 school year about 4,000 DC public schools students were homeless and at the end of 2014, more than 1,000 DC children were in foster care, according to the Children's Law Center's report. Children who are homeless or in foster care experience high levels of trauma.
While marrying science and advocacy is an important part of creating momentum around childhood trauma and trauma-informed schools, Sen. Heitkamp stressed the role of the legal community as well.
"To the extent that you are doing pro bono, this is a great lane to be in. You are part of a movement."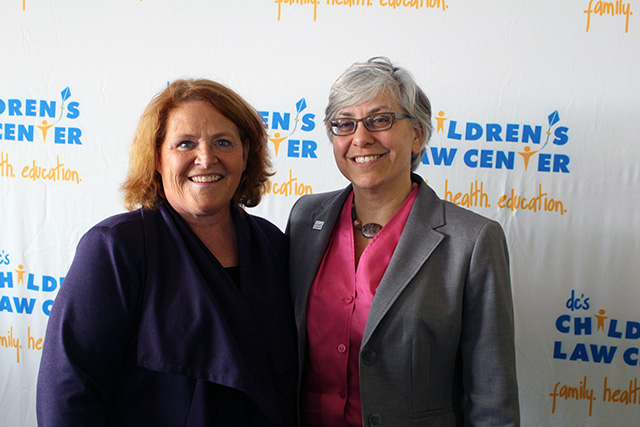 Senator Heidi Heitkamp and Children's Law Center Executive Director Judith Sandalow.
Children's Law Center, which celebrates its 20th anniversary in 2016, partners with more than 500 pro bono attorneys from top law firms every year, allowing it to reach even more children in DC's poorest neighborhoods.
Tuesday's event, sponsored by TruShield Security Solutions, Inc., a concierge managed security provider with years of experience in the legal industry, was first in a series of breakfasts planned throughout 2016 that will bring national leaders together with members of the District's legal, health and education communities to discuss how to improve the well-being of vulnerable District children.