As we entered the DC budget season, we anticipated an uphill battle.
More than a year after the pandemic began, the outlook for the District was still uncertain: A looming end to the eviction moratorium, parents concerned about their children's physical and mental health and a social safety net stretched to the breaking point.
Our greatest challenge was ensuring the final budget prioritized these urgent needs while not losing momentum on the long-term efforts already underway.
Yesterday, the DC Council finalized the Fiscal Year 2022 budget – and we're proud to share that our hard work resulted in transformative wins for DC kids and families!
In partnership with clients and allies, we advocated for increased funding and leveraged newly available federal funds. Our goal: a budget that prioritized the needs of DC kids and families most impacted by the pandemic while also investing in the programs, services and supports for which we've long advocated.
And we succeeded!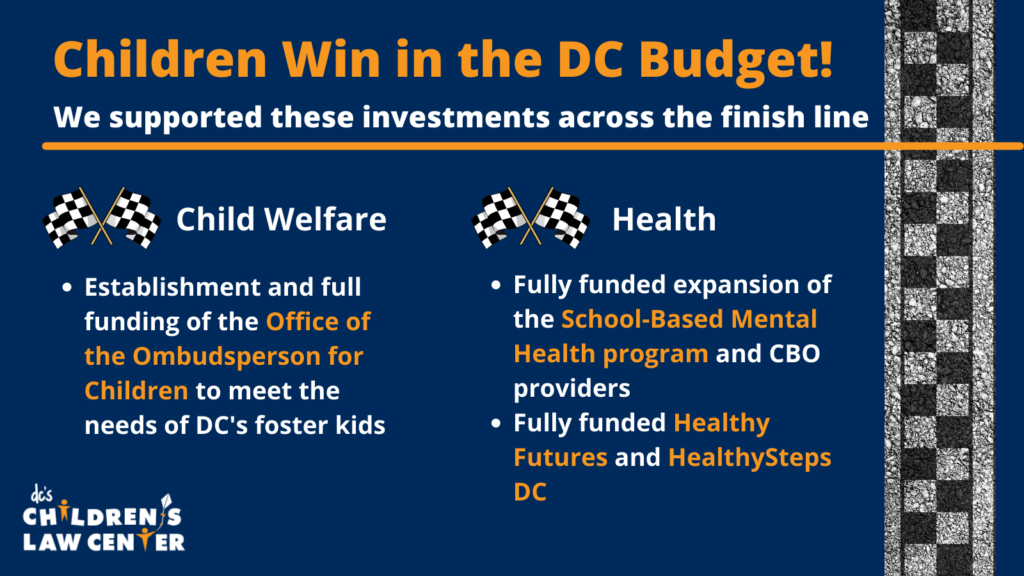 We are particularly excited that these following priorities crossed the finish line: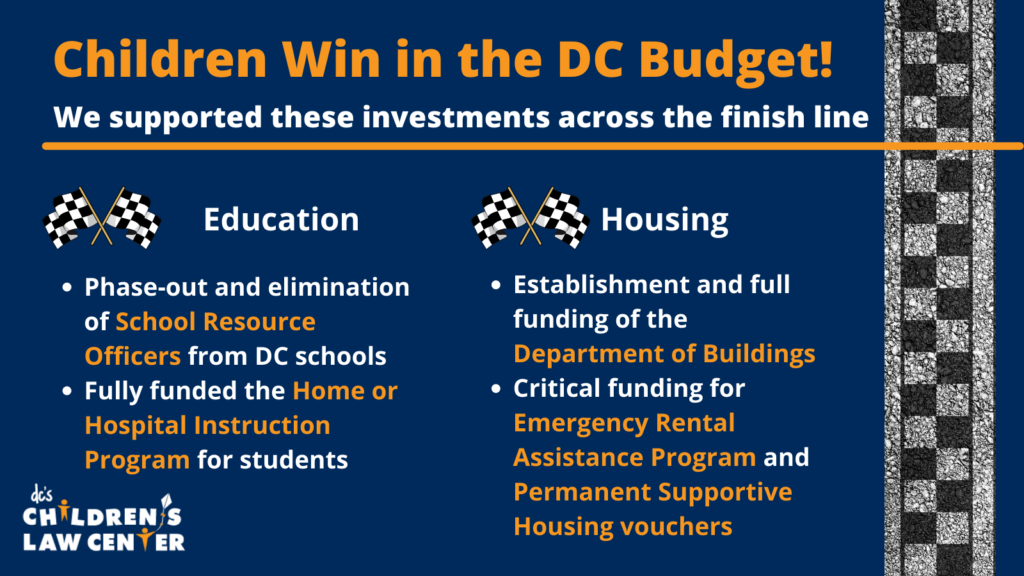 But even with these wins, we had concerns that one-time federal emergency funds wouldn't be enough to create a more equitable future for DC kids. It's why we supported the Home and Hearts Amendment Act, a modest tax increase on DC's highest earners. We applaud the DC Council for increasing funds for housing supports that will help end chronic homelessness, expanding childcare supports and establishing a basic monthly income for our neighbors most in need.
While the future is uncertain, we know that – because of your support – we will always be here fighting for DC children.
Our Impact: Systemic Reform
Our systemic advocacy is grounded in the experience we have gained helping more than 40,000 District children and families since our founding in 1996. We use this expertise to advocate for city-wide solutions that better serve children's needs. Learn more on how we work to change laws, policies and practice and appellate caselaw.
Systemic Reform