Judith Sandalow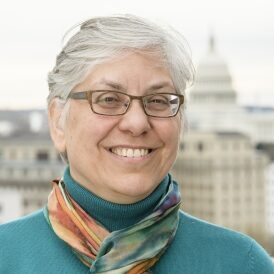 Judith Sandalow has led Children's Law Center as its Executive Director since January 2000. Under her leadership, the organization has grown from a staff of three to more than 100 attorneys, social workers, investigators and other professionals. Together with the assistance of hundreds of pro bono attorneys from dozens of area law firms, Children's Law Center now helps more than 5,000 children and families in the District each year.
Judith's commitment to the District's children began early in her career when she was a Juvenile Justice Fellow at Georgetown University Law Center. Then, after starting a juvenile clinic at DC Law Students in Court, she developed a successful criminal defense practice specializing in representation of juveniles charged with serious crimes. During her career, she has represented hundreds of children. She also is a foster and adoptive parent who raised her two boys in DC—giving her a personal view on how to navigate the sometimes complicated bureaucracy that affects foster children in the District.
Her leadership has been recognized numerous times. Most notably, in 2022 Judith received the Thurgood Marshall Award which recognizes extraordinary commitment to pursuing equal justice and opportunity for all Americans. Two years earlier, she was awarded the American Bar Association's 2020 John Minor Wisdom Public Service and Professionalism Award for her outstanding contributions to the quality of justice and for ensuring that the legal system is open and available to all. She was also a 2007 winner of the Meyer Foundation Exponent Award which recognizes strong and effective nonprofit leaders with a track record of accomplishment and received the 2013 President's Award from the Washington Council of Lawyers for her exceptional commitment to public service. Ms. Sandalow was also named one of Washington's Most Influential Women Lawyers by the National Law Journal in 2010.
Judith is a founding board member of the Foster and Adoptive Parent Advocacy Center, a member of the Leadership Washington class of 2004 and chaired the Board of the DC Fiscal Policy Institute.
She is frequently cited in the media and is an expert on issues related public interest law, child welfare, education and DC policy related to children and families. She has appeared in CNN, Legal Times, National Law Journal, Washington Post, WAMU, Washington Lawyer, WTOP, WUSA Channel 9, and elsewhere.
Education:
Yale Law School, JD
Professional Activities:
Immediate Past Chair, DC Fiscal Policy Institute Board
Founding Board Member, Foster and Adoptive Parent Advocacy Center